Hossein Tavakoli
Environmental Engineering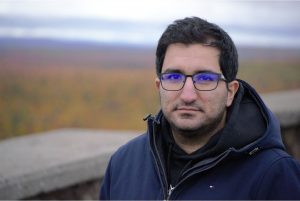 I came to Michigan Tech in August 2014 to pursue my PhD in Environmental Engineering. My research focuses on the environmental and socioeconomic impact of algae cultivation, and algal biofuel production. Apart from research, I have been involved with the Graduate Student Government (GSG) at Michigan Tech since 2016 in various capacities as department representative, sustainability liaison, and president. I have also been working as a Teaching Assistant in different departments which has been an invaluable experience for me.
I am truly grateful to the Graduate School for providing me with financial support through the Doctoral Finishing Fellowship. This fellowship helps me in focusing exclusively on finishing the experiments and publishing in journals to complete my dissertation in a timely manner.