Danielle Rupp
School of Forest Resources and Environmental Science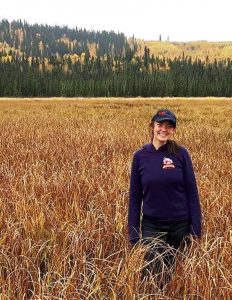 I am a fourth year PhD Candidate in the School of Forest Resources and Environmental Science. My area of study revolves around boreal ecosystems—particularly northern wetlands—and how these areas are responding to climate change. The research that I pursue at Michigan Tech specifically involves carbon cycling, microbial response, and plant community shifts due to hydrologic change. Other research I have been involved with during my time at Tech includes the investigation of permafrost thaw and its effects on nutrient cycling in and around thermokarst features. In so doing, I have spent the past three summers living and working in and around Fairbanks, Alaska—an area in which permafrost thaw and climate change are daily realities for both the landscape and the people who live there. During my time at Michigan Tech, I also had the opportunity to attain a Masters in Geographic Information Systems (GIS), which expands my technical skillset for any future career.
I am incredibly grateful to the graduate school for awarding me a Finishing Fellowship. The extra time to finish writing and publishing my research will make me a competitive candidate for many potential future careers. Careers I am interested in pursuing include nonprofit environmental research, land- or water-based management positions in federal agencies, land trusts, or non-profits, or environmental state-based careers in Alaska or other northern climates.