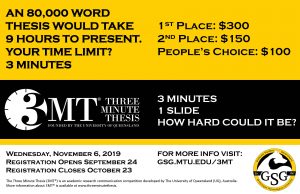 GSG is pleased to announce that registration for this years Three Minute Thesis competition is currently open. This year's competition is on Wednesday, November 6th. This competition offers a great opportunity for graduate students across the university to present their research to a general audience. This contest is open to all grad students – PhD/MS (thesis, report, or coursework.)
Registration closes October 23rd, at 11:59 PM.
Preliminary rounds: MUB Ballroom, 12-4 PM
Final round: Continental Fire Co, 6-8 PM.
We invite and encourage all graduate students to take advantage of this amazing competition and help make it a success. For full event information and the registration link please visit http://gsg.mtu.edu/3mt.