Samerender Nagam Hanumantharao
Biomedical Engineering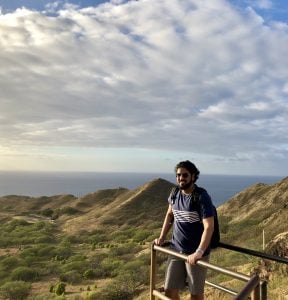 I received my Master of Science in Biomedical Engineering from Michigan Tech with the thesis titled "A 3D Biomimetic Scaffold using Electrospinning for Tissue Engineering Applications". Under the guidance of Dr. Smitha Rao, I have continued my research effort in the field of tissue regeneration focusing on biophysical cues in the micro- and nano- scale that impact tissue growth. Tissue regeneration is a complex process that involves a myriad of biological pathways working in tandem. When this harmony is disturbed, it leads to complications which can be fatal. The healing of wounds caused by diabetic foot ulcer is one such disease that prevents complete healing, and involves time-consuming and expensive rehabilitation. My research focuses on identifying the biophysical cues involved in tissue regeneration for wound healing applications and developing a bandage that accelerates the wound healing process using the native cells of the body. The bandage functions by mimicking the physical characteristics of local tissues providing a framework for the cells to attach and proliferate thereby closing the wound.
I look forward to utilizing this opportunity to develop improved scaffolds and enable technologies to enhance our understanding of the various signaling pathways involved in wound healing. I will continue to identify commercial applications and develop my skills both as a researcher and an entrepreneur. The PHF assistantship will be invaluable in my pursuit. I want to thank the Portage Health Foundation, the department of biomedical engineering at Michigan Tech and my advisor Dr. Rao for the help, support and guidance.