Pegah Kord Forooshani
Biomedical Engineering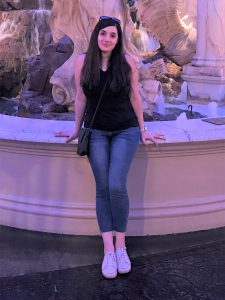 I joined Dr. Bruce Lee's lab in the Department of Biomedical Engineering in Fall 2016, where we focused on designing biomimetic materials for different biomedical applications. The overall objective of my research is to manipulate a unique reduction-oxidation chemistry found in mussel adhesive proteins to create novel biomimetic model systems for robust antibacterial activity and enhanced wound healing. Specifically, I have been developing biomimetic hydrogel/microgels which can be activated to release Reactive Oxygen Species such as hydroxyl radical (OH˙) and hydrogen peroxide (H2O2). OH˙ is an extremely potent oxidizer which, unlike H2O2, no known enzyme can detoxify it in the bacteria cells, leading to fast and efficient antibacterial activities. H2O2 is a mild oxidizer, which effectively functions as a broad-spectrum biocide and disinfectant in many biomedical applications. The biological responses to H2O2 are highly dependent on its concentration. The introduction of a relatively high concentration of H2O2 is antimicrobial and a relatively lower concentration promoted wound healing. We are anticipating that our H2O2-releasing hydrogels can serve as a simple and inexpensive approach for the treatment of healing-impaired wounds such as diabetic foot ulcers.
I would like to thank Dr. Lee for all of his valuable guidance and support which have provided me with the opportunity to expand my knowledge and skills. I am also incredibly grateful to the Portage Health Foundation for awarding me this assistantship which will enable me to concentrate on my research and complete my doctoral project.