While the Administration Building is closed, the Graduate School does not have a way to accept paper forms.
Students must submit forms online to Canvas.  At this time, forms are not being accepted via email.  This link will go directly to the "Modules" page in the Graduate Candidates Canvas course.  Log in using your Michigan Tech credentials.  If you are already logged into Canvas, select the "Graduate Candidates" course and then "Modules" from the left hand menu.
The modules page has sections for form, dissertation, thesis, and report submission.  Under the section titled "Graduate Student Form Submission," a list of the most popular forms is presented.  Select the form you wish to submit.  For any form that requires signatures, download the form, complete it, obtain the signatures, scan it, and then upload it to Canvas.  If your form isn't listed, submit it to the "ANY OTHER FORM" item. Please note that the Workspace Cleanout Form is only accepted via upload to MyMichiganTech.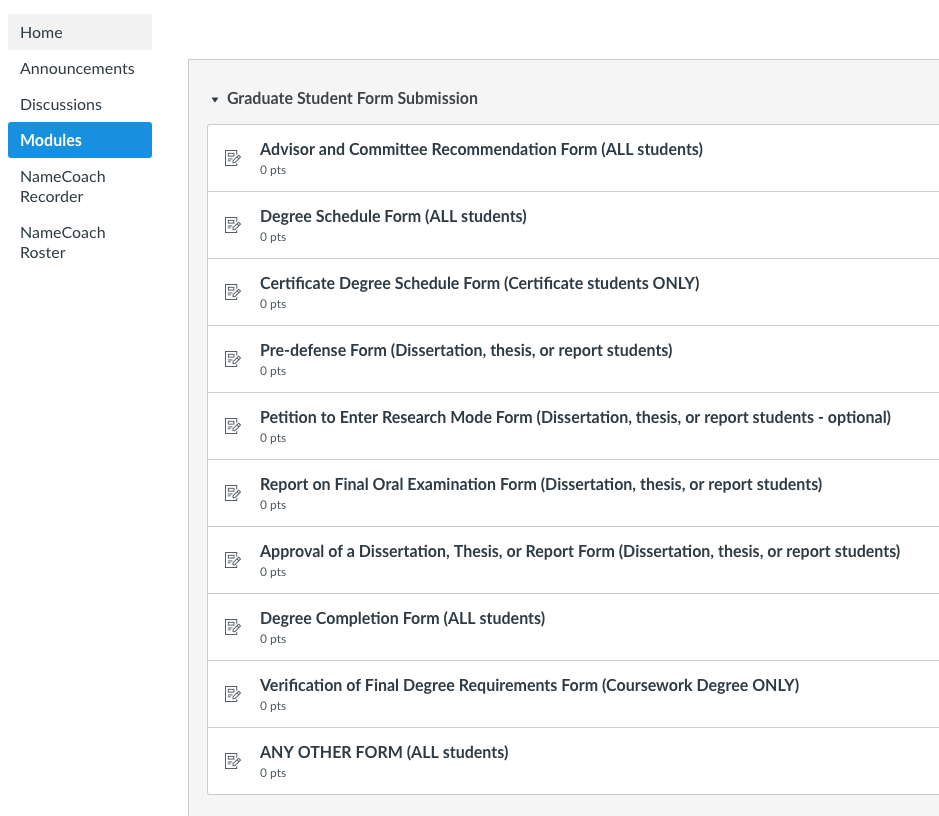 Look for the "Submit Assignment" button in the upper right of the screen and press it.

That will open up a file submission module, shown below.  Select "Choose file" to select the form you have ready to submit.  If you need to submit multiple forms of the same type at the same time, please select "Add Another File" to allow you to upload two files at once.  Your most recent submission will replace your old submission, so it is important to upload all files in the same upload for faster processing. If you have any comments for us, please type them in the box provided.  Once your submission is complete, click on "Submit Assignment."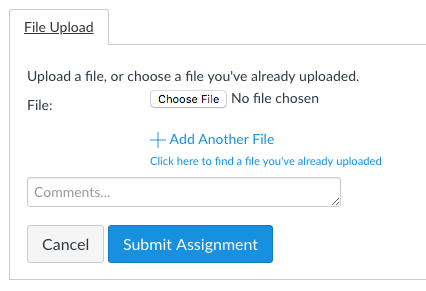 Your submission will be date-time stamped and verified in the upper right of the screen.  In the example shown below, the student submitted the file "verification.pdf" on June 18th at 5:02pm.  If you notice a mistake, or are asked to re-upload the form due to an error, please use the "Re-submit assignment" button to update your submission.  Re-submitting the assignment will replace the current submission, so do not re-submit unless you are trying to update or fix your submission.