Xue Mi
Chemical Engineering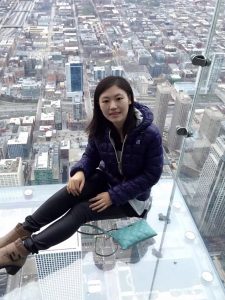 I am a Ph.D. candidate in Chemical Engineering and has been working on my Ph.D. project in Dr. Caryn Heldt's lab since 2015 fall. My research has focused on creating methods to remove, detect, characterize, and purify viruses. Virus removal explored cheaper and easier ways to purify water; detection of viruses can be used to determine the cleanliness of surfaces from viral contamination and also possibly as a quick way to screen blood donations for viral contamination in underdeveloped countries; characterization studied viral surface properties to stabilize vaccines; purifying viruses can create less expensive vaccines and other viral therapies and bring them to market faster. All of these projects and applications can help improve both the health of our local population, but also health worldwide.
I want to express my deepest gratitude to the Portage Health Foundation for financial support. It allows me to focus on my paper and dissertation writing for the summer of 2019. I also want to thank my advisor Dr. Heldt for her constant help and generous support throughout my entire graduate school studies.