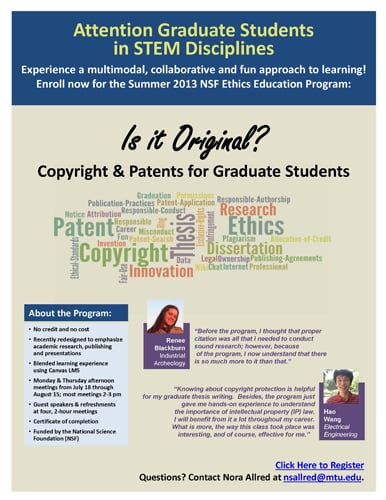 Graduate students are encouraged to enroll in Is It Original? Copyright and Patents for Graduate Students, funded by the National Science Foundation.
Program Basics:
This program offers busy graduate students a unique opportunity to build an understanding of intellectual property that will complement their studies, research, and instructional goals. Students can:
Participate in a non-credit (no-cost), five-week program (July 18 – August 15)  that is guided by Michigan Tech copyright and patent experts.
Learn with peers in online environments, during Monday/Thursday weekly meetings with campus experts and guest speakers to develop a broad understanding of copyright and patent fundamentals in the context of academic research and publishing.
Engage in guided team activities to analyze IP case scenarios relevant to graduate studies and to share your informed analysis with others.
Program Benefits:
Students will gain a competitive edge for their graduate studies and with future employers. They will explore the beneficial balance of IP law that supports the continuous advancement of knowledge by protecting, rewarding, and encouraging originality in STEM research. On successful program completion, they will receive a certificate of training in intellectual property. We've worked on this program for several terms taking into account feedback from graduate student attendees.
To enroll, please register online.
An orientation meeting is scheduled for Thursday, July 18 in the library.
For further information and any questions, please contact Jean DeClerck (jsdecler@mtu.edu).