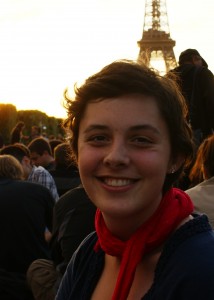 Global literacy is one of Michigan Tech's eight student learning goals that were put in place in order to strengthen innovative student-centered programs and activities. Specifically, global literacy is the idea that students should be able to interact in meaningful ways with people of different cultures. In order to accomplish this goal, students are encouraged to strengthen their global knowledge and tolerance through the study of language and cultures.
This year, the Global Literacy Award was given to Material Science major, Emily Wolbeck. Emily will be a Senior in Fall working towards graduating in the Spring of 2014 with a Bachelors degree in Material Science along with an International French minor. She is also enrolled in the Pavlis Institute for Global Technological Leadership certificate program as well as active with IGTAAP – a program involved in aiding international teaching assistants in English skills and presentation strategies.
The money that Emily won will be used for her trip to study in Malta this summer. While abroad, Emily will lead a project with Mind Trekkers as well as student involvement in the Maltese Aviation Museum to help the museum portray American participation in the Air Battle of Malta during World War II.
Last summer, Emily studied art and photography in Paris where she was very comfortable conversing because of her French minor. However, she is looking forward to visiting a country where she doesn't know the language because it gives her experiences to bring back to her IGTAAP students. "I think that working in a country where I cannot speak the language will give me good experience that I can share with my students" said Wolbeck. "We can compare notes with eachother."
After graduation, Emily hopes to end up in Minnesota working in the Green Sector, still involved with her favorite hobby – photography, and making use of her experiences abroad.