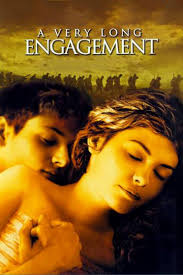 The Modern Languages Program will host a screening of the 2004 Jean-Pierre Jeunet WWI film, "Un long dimanche de fiançailles" ("A Very Long Engagement"), at 7 p.m. Thursday (Oct. 18) in Walker 134. The screening is free and open to the public.
Film Synopsis: A young French woman, Mathilde (Audrey Tautou), is told that her fiancé (Gaspard Ulliel) has been killed in the trenches of the Somme during World War I. Refusing to believe this news, she begins trying to find out what actually happened on the battlefield that night, enlisting the help of a private investigator. During her search, she stumbles across evidence of the inhumane and morally bankrupt system used by the French to deal with deserters and hears from other men who were sentenced to extreme punishment.
The screening is part of World War I in the Copper Country, an extensive program of events and exhibits commemorating the centennial of the WWI Armistice.