Category Archives: Graduate
Edzordzi Agbozo (RTC PhD candidate), co-authored a paper titled "Teacher Trainee Sociolinguistic Backgrounds and Attitudes to Language-in-education Policy in Ghana: A Preliminary Survey," which appeared in Current Issues In Language Planning.
---
The RTC program is excited to launch the Graduate Student Best Conference Paper Award. This award seeks to recognize and promote excellence in RTC graduate students' research and scholarship and is made possible thanks to support from the Humanities department. All current students are eligible for the award, which comes with a $500 fund. The RTC encourages students to submit their recent papers for consideration. A student may submit only one paper per year. To apply, please follow these submission guidelines (PDF).
---
The RTC Committee will present the last of the Fall Colloquium Series this Wednesday, 12/05 at 1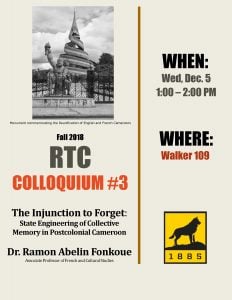 :00 pm in Walker 109. Dr Ramon Fonkoué will present a paper entitled "The Injunction to Forget: State Engineering of Collective Memory in Postcolonial Cameroon," adapted from a chapter in his forthcoming book on nation building in Cameroon.
This paper will address the post-colonial state's attempts to impose a sanitized version of the history of the country's anti-colonial struggle, the resulting lack of potent symbols for the nascent nation, and the manifestations of the people's "dissident knowledge."
Abstract: Upon gaining independence, the leaders of Cameroon denied the status of martyrs to the nationalists who had paid the ultimate price for their opposition to the colonizer. Deprived of this symbolic capital, the state was condemned to an improbable quest for beacons of the nascent nation. Using Michel Foucault's concept of "discursive formation," this presentation investigates the state's attempts to monopolize historiography in the aftermath of Cameroon's war of independence. In independent Cameroon, the leaders' claim to legitimacy was undercut by the people's "dissident knowledge" about the nation's "silent" heroes. As a result, political discourse, which is divorced from popular memory about the past, sees its performative power undermined by the impossibility to mourn the nation's deaths. This paper concludes on artistic expressions of defiance to sanctioned discourse on history. 
---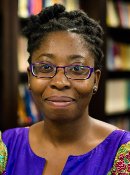 Nancy Henaku, Rhetoric, Theory, and Culture PhD candidate, has published a paper in the African Journal of Rhetoric titled "Rhetoric, Power and Political Crisis: A Rhetorical Discourse Analysis of Ghana's 2012 Election Petition".
Henaku argues that "courtroom discourse during Ghana's 2012 election petition was not meant to just persuade the panel of judges and that power framed and determined what was significant in the courtroom interactions."
Discursive construction of power during cross-examinations is complicated by the fusion of 'legal' and 'political' power which impacts the production of the three modes of proof (ethos, pathos and logos) and ultimately, determines the outcome of the case itself. —Nancy Henaku, RTC PhD candidate
---
William De Herder, Rhetoric, Theory, and Culture PhD student, has published a paper in Praxis: A Writing Center Journal in which he discusses Michigan Tech's own Mulitliteracies Center. The paper is titled "Composing the Center: History, Networks, Design and Writing Center Work."
I hope that other centers might learn from our experience and consider deploying similar strategies to question and reflect on how their work can accommodate new technological realities and pursue social projects. —William De Herder
---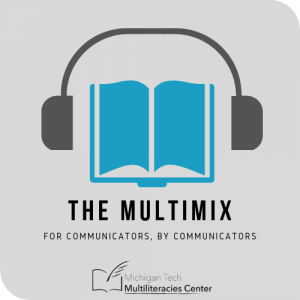 The Michigan Tech Multiliteracies Center has started a podcast titled "The MultiMix." Topics address issues related to literacy, writing and writing center studies. Episodes feature interviews with scholars and professionals, discussions of writing center topics and explorations into writing and genre.
Episode 1 is now available online.
---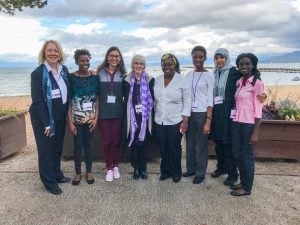 Michigan Tech Humanities graduate students and professors presented scholarly work at the annual Conference of the Organization for the Study of Communication, Language, and Gender in Lake Tahoe, Nevada October 3-6, 2018.
Masters Graduate student Nancy Achiaa Frimpong presented "Skin Colour on Sale: Advertising and Postfeminism". Doctoral Graduate student Nada Mohammad Alfieir presented "'I Didn't Understand Anything!' A Muslim Mother's Narrative Reflections on Privacy, U.S. Sex Education, and a Daughter's Denials". Doctoral Graduate student Sara Potter presented "Motherhood as a Jointly Constructed Narrative". Doctoral Graduate student Modupe Yusuf presented "African Women as Symbols of Feminist Persistence". Ph.D. candidate Toluulope Odebunmi presented "Women and Politics in West Africa: An Analysis of Feminist Criticisms Against Liberia's Ellen HJohnson Sirleaf". Ph.D. candidate Nancy Henaku presented "Resistance, Discursive Activism and Gender Politics in Ghanaian Social Media: A Feminist Critical Discourse Analysis" and also served as the student representative on the OSCLG Board. Ph.D. candidates Nancy Henaku and Toluuope Odebunmi presented papers on the panel, "African Women Performing Persistence: Tales of Historical and Contemporary Contributions to Global Activism".
Professor Victoria Bergvall presented "Missing Voices in the WEIRD Discourse of Gendered Neuroscience: Transnational Feminist Discourses of Nature and Nurture in Gender/Sex/Sexuality". Professor Patty Sotirin presented "Militarized Mother Legacies: Talking with WWI Mothers".
Pictured from left to right: Victoria Bergvall, Toluulope Odebunmi, Sara Potter, Patty Sotirin, Nancy Henaku, Modupe Yusuf, Nada Mohammad Alfieir, and Nancy Achiaa Frimpong.
---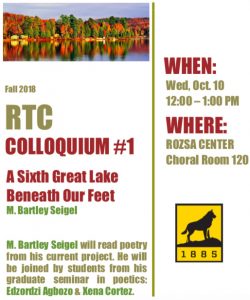 The Department of Humanities is pleased to announce the first Rhetoric, Theory and Culture Colloquium of the semester titled A Sixth Great Lake Beneath Our Feet. Professor M. Bartley Seigel will read poetry from his current project and will be joined by students from his graduate seminar in poetics: Edzordzi Agbozo & Xena Cortez. Seigel is the author of the poetry collection, This Is What They Say, (Typecast Publishing, 2013).
Please join us on Wednesday, October 10 at 12 p.m. (noon) in the Rozsa Center Choral Room 120.
---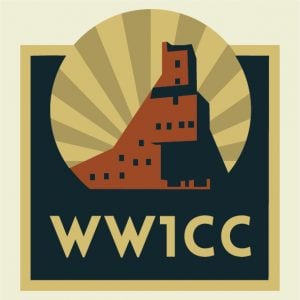 Three faculty members and a graduate student presented on various topics related to the First World War at the Armistice & Aftermath: a World War One Symposium. The symposium is part of the commemoration of the Copper Country's involvement in WWI. Ramon Fonkoue presented on "Art and activism in Abel Gance's film Jaccuse: Revisiting anti-war sentiment in French art and society a century later". Dany Jacob's presentation was titled "'Pour la France! Pour ma famille!': Legacies in Rouad's Champs d'honneurs". Laura Fiss also presented on "Recalling the trenches from Club Window: Contrasting perspectives in Dorothy Sayers and P.G. Wodehouse". Graduate student Edzordzi Agbozo presented on "World War One & Africa: Contesting history, nation, and identity in 'Western Togoland'".
---
Rhetoric, Theory, and Culture PhD student Richard Ward has published a creative non-fiction story in Pennsylvania's Emerging Writers: An Anthology of Nonfiction, released by Z Publishing House, 2018. Ward's story is titled "A Rumble in the Woods". Previously, Ward's "Cute from a Distance" won the The Bob Hoffman Award for Creative Non-fiction and was published in York Review 21, 2015.
---