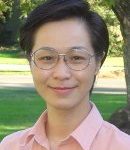 Bo Chen, the Michigan Tech Dave House Professor of Mechanical Engineering and Electrical Engineering, has received the designation of Fellow from the American Society of Mechanical Engineers (ASME).
The Fellow grade of membership is conferred to worthy candidates by the ASME Committee of Past Presidents to recognize their outstanding engineering achievements.
Nominated by ASME Members and Fellows, an ASME Member nominee must have 10 or more years of active practice, and at least 10 years of active corporate membership in ASME.
William Predebon, chair of the the Department of Mechanical Engineering-Engineering Mechanics said, "Dr. Chen has made major contributions in her field of embedded systems with application to hybrid-electric and electric autonomous systems. Her course in Model-based Embedded Control System Design is regularly in high demand by not only ME students but also EE students. This is a testament to the importance of the topic and her teaching ability."
A member of the Institute of Computing and Cybersystems (ICC)'s Center for Cyber-Physical Systems (CPS), Bo Chen conducts interdisciplinary research in the areas of mechatronics and embedded systems, agent technology, modeling and control of hybrid electric vehicles, cyber-physical systems and automation.
Visit Chen's faculty webpage here.
ASME helps the global engineering community develop solutions to real world challenges. Founded in 1880 as the American Society of Mechanical Engineers, ASME is a not-for-profit professional organization that enables collaboration, knowledge sharing and skill development across all engineering disciplines, while promoting the vital role of the engineer in society. ASME codes and standards, publications, conferences, continuing education and professional development programs provide a foundation for advancing technical knowledge and a safer world.