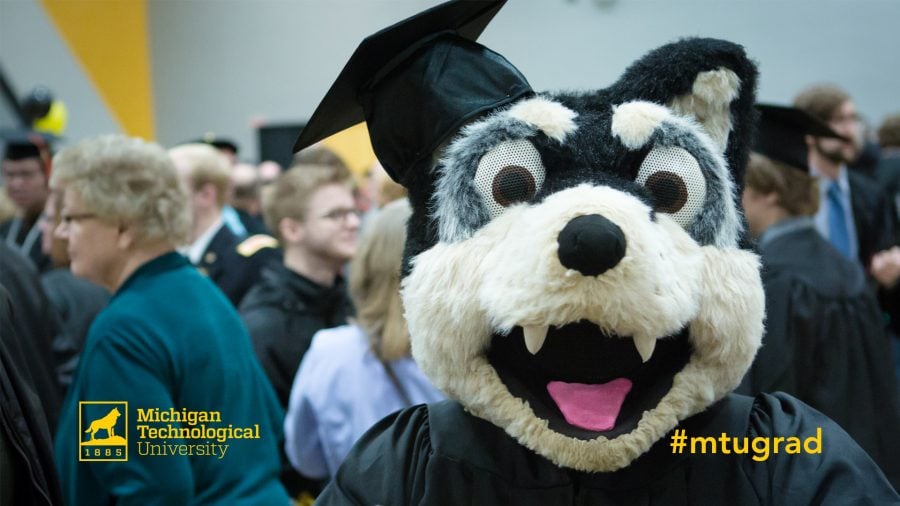 In light of recent changes to Michigan's COVID-19 epidemic orders that increase the size of allowable group gatherings, Michigan Technological University has modified its graduation celebration planned for April 30, 2021 to allow families and guests to participate alongside their graduate.
As announced in an earlier email to students, the University will host a graduation walk through campus to celebrate this significant milestone. Students may now invite up to six guests to walk with them. Details, including the start times, are still being worked out. Graduates who would like to participate will be asked to sign up prior to the celebration. A signup link will be emailed to all eligible graduates on March 22.
As a reminder, Michigan Tech remains committed to the health and safety of our campus community. All guests and graduates will be required to wear a face mask at all times and practice social distancing during the event. Please be sure to check www.mtu.edu/commencement for the latest information.
Congratulations, Huskies—you did it! The pride you feel now will only grow stronger with time. Your Michigan Tech family and our community joins you and your loved ones in celebrating your completion of this journey.
Regalia Update
Regalia is encouraged, but not required at the outdoor event. Regalia can be ordered through Herff Jones with direct delivery to the graduate. If you have questions regarding your order, contact Michele Nash from Herff Jones at mnash@herffjones.com or 248-667-9018.
Class of 2021, you've done an amazing job! If you have any questions, contact commencement@mtu.edu.
Please Note
Neither participation in the commencement ceremony nor inclusion in the program constitutes official completion of degree requirements or the attainment of honors or other recognitions.
Graduates do not receive their diploma at the commencement ceremony. Diplomas are mailed to the graduate approximately six weeks after degree requirements are met.