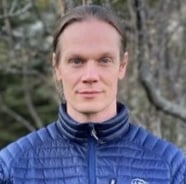 On May 18, 2021, Dr. Guy Hembroff, Applied Computing, presented an invited talk at a meeting of Michigan's Health Information Management Systems Society (HIMSS). Dr. Hembroff discussed his work developing a trusted framework architecture designed to improve population health management and patient engagement.
The talk demonstrated his team's work in the development of accurate geo-tagged pandemic prediction algorithms, which are used to help coordinate medical supply chains to care for patients most vulnerable to COVID-19, an innovation that can be extended to help improve general population health management.
The framework of the pandemic prediction architecture, which aggregates longitudinal patient health data, including patient generated health data and social determinants of health, is a holistic and secure mHealth community model. The model can help Michigan residents overcome significant barriers in healthcare, while providing healthcare agencies with improved and coordinated population management and pandemic prediction.
The architecture's machine learning algorithms strategically connect residents to community resources, providing customized health education aimed to increase the health literacy, empowerment and self-management of patients. The security of the architecture includes development of unique health identifiers and touch-less biometrics capable of large-scale identity management.
Dr. Guy Hembroff is an associate professor in the Applied Computing department of the Michigan Tech College of Computing, and director of the Health Informatics graduate program. His areas of expertise are network engineering, medical/health informatics, biometric development, intelligent medical devices, data analytics, and cybersecurity.
The event was sponsored by HIMSS and Blue Cross Blue Shield of Michigan (BCBSM).
A mission-driven non-profit, the Healthcare Information and Management Systems Society, Inc. (HIMSS) is a global advisor and thought leader supporting the transformation of the health ecosystem through information and technology, according to the organization's website.