by Office of the Provost & Senior VP for Academic Affairs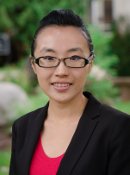 Ye "Sarah" Sun (ME-EM) has accepted the Lou and Herbert Wacker Professorship in Mechanical Engineering, which was created to retain and attract high-quality faculty who are at the top of their profession, can excite students to think beyond the classroom material, and knows how to integrate their research into the classroom.
Sun was chosen for this position as she is recognized as a rising star and outstanding researcher in the area of wearable sensors, systems, and robotics and a respected member of the smart health community.
In recognition of her innovative research in wearable sensors, Sun's NSF CAREER award was selected for presentation to congressional offices in April 2019.
Sun is the director of the Institute of Computing and Cybersystems's Center for Cyber-Physical Systems.
Among her research honors is the prestigious National Science Foundation (NSF) CAREER Research Award on "System-on-Cloth: A Cloud Manufacturing Framework for Embroidered Wearable Electronics."
Sun will use this recognition and support to enhance her research in wearable and soft robotics. Her goal is to develop flexible textile robotics by leveraging the physical understanding and modeling of textile materials and dynamics and the recent advances of morphological computing.
Textile robotics are not only able to enhance human capabilities via wearable design but also achieve autonomous locomotion. The controllable structures of textiles directly provide a unified platform that is capable of integrating sensing and actuating into textile robotics itself. The positioning support will be used to recruit graduate students and to set up the manufacturing platform.