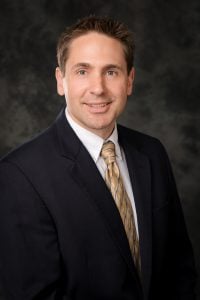 The inaugural fellowship, a highly competitive program through the Association of Public and Land-Grant Universities (APLU), builds up researchers in academic leadership.
APLU's Council on Research (CoR) brings together senior research officers working at public research universities from across the country and they have named eight individuals to its inaugural class of CoR Research Leader Fellows. One of them is Jason Carter, the chair of the Department of Kinesiology and Integrative Physiology.
As CoR puts it, the fellowship enables individuals who aspire to become vice presidents, vice provosts or vice chancellors of research to develop critical new knowledge and skills essential to research support and competitiveness.
"Shifting from thinking as an individual researcher to thinking about groups of researchers, and thinking about the institution as a whole, forces you to have a broader perspective," Carter says. "It's a shift to how can I help others as opposed to how can I help myself."
Likewise, as a researcher learns to step back from the bench and see the university as a whole, they need to have a practical understanding of the processes that run research administration, development, compliance, communication and more.  Few researchers have the chance to learn about these processes within their own institution.
Carter says serving as a department chair has set him up well for the fellowship, and so far, has found the CoR program a great way to integrate that knowledge. In particular, he thinks it builds on the decision-making skills researchers develop to clarify research objectives and prioritize projects.
"As scientists, we do that all the time in our grants," he says. "As a research administrator, you have to make those same kinds of decisions at a higher level, which requires more patience and the resolve to work with other people."
Read the full article, published in Michigan Tech News and written by Allison Mills.