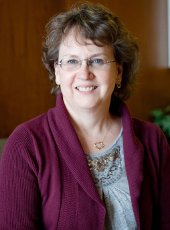 Michigan Tech was well represented at the 2019 National Organization of Research Development Professionals (NORDP) Great Lakes Regional meeting on Oct. 21 at the University of Michigan in Ann Arbor.
The meeting was hosted by the UM Office of Research, UM Institute for Clinical & Health Research and infoReady Corporation. Peter Larsen, Director of Research Development (AVPRD) and Jessica Brassard, Associate Director of Research Development (AVPRD) delivered a presentation entitled "Behind the Scenes of Research Development Day".
Elizabeth Hoy, Business and Program Development Director at the Great Lakes Research Center, delivered a presentation entitled "Navigating Growth in a Faculty-Focused Research Environment". Additional sessions included information on best practices, metrics, and tools to support research projects from initiation to completion.
GE, BASF and AbbVie were on hand to provide their perspective on research collaboration with higher education institutes.
Other Michigan Tech attendees included Brent Burns (AVPRD), Director of Federal Relations & Corporate Research; Jackie Gebhardt (GLRC), Coordinator; Allison Hein (MSE), Research Engineer and Scientist I – IMP; Jacob Manchester (AVPRD), Associate Director of Corporate Research; and Grace Schmitz (HRI), Institute Manager.
NORDP is the only professional association dedicated to helping members advance research in higher education institutes. NORDP provides tools to enhance research competitiveness as well as catalyze new research and institutional collaboration.