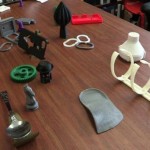 Associate Professor Joshua Pearce's (MSE/ECE) efforts on 3D printing have been picked up both locally and nationally. His economic analysis was picked up by CNN blogger Heather Kelly in her "What's Next" column entitled "At Home Printing Could Save Consumers Thousands." The story also made the UPI wire and Business News Daily. His workshops that teach area teachers how to use 3D printers were covered by WLUC TV6, ABC 5&10 and Second Wave.
From Tech Today.
Research by MSE students Ben Wittbrodt, Alexandra Glover and John Loreto and Gerald Anzalone (MSE), and Douglas Oppliger (EF), John Irwin (MET) and Joshua Pearce (MSE/ECE) on distributed manufacturing and 3-D printing has made both the popular technical press nationally including Popular Science, Computer World, Tech Crunch, Slash Dot, Kurzweil and Gizmodo and the international news including major newspapers ABC, and El Correo in Spain and the Krone, which is Austria's largest newspaper with an average daily readership of 2,970,000.
From Tech Today.
The story about Associate Professor Joshua Pearce's (MSE, ECE) economic analysis of the value of 3D printing was featured on Gizmodo, a leading technology website. See online.
From Tech Today.
Master's student Ben Wittbrodt '13 (MSE) is featured in this ABC News technology feature on 3D printing, "Printing Keychains and Shower Heads: 3-D Printing Goes Beyond the Lab." Associate Professor Joshua Pearce (ECE/MSE) is quoted in the story, which resulted from his study on the economics of 3D printing.
From Tech Today.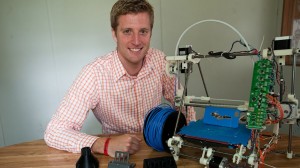 Joshua Pearce (MSE/ECE) was interviewed for the show Science, Health and Technology for NTN24 International News Channel, which airs in all Latin America, the Caribbean and in Europe through different cable systems and DirectTV in the US. The interview in Spanish covered Michigan Tech's efforts in distributed production using low-cost open-source 3-D printers.
From Tech Today.
Read more and watch the video (in Spanish) at NTN24.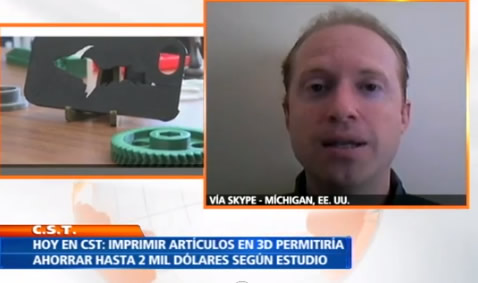 Michigan Tech's research in distributed manufacturing with 3-D printing continues to be covered abroad, including an article in La Nacion of Costa Rica. Closer to home "Click, print, fire: Grand Rapids startup hits accelerating 3D printed weapons market" extensively quoted Joshua Pearce (MSE/ECE).
From Tech Today.