Want to Ski or Snowboard but don't want to spend a ton of money on equipment?
Mont Ripley offers Rental Equipment to Michigan Tech Students and community members for the low price of $185.00 for the whole season!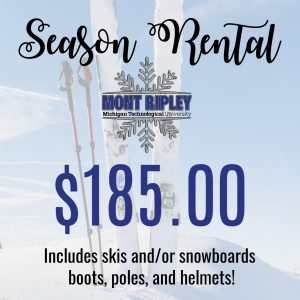 Mont Ripley's season averages 100 days of skiing per season, so that's only $1.85 per day!
Download and fill out the Rental Agreement, then visit the Ticket Office or pay online HERE!
Contact the Ticket Office for questions at (906) 487-2340