Free Professional Headshots for Students at Career Fair
The Office of Alumni Engagement is offering free professional headshots for students at the Fall Career Fair. A photographer from Brockit Inc. will be taking photographs on September 21, 2022, from 2-6 p.m. in the SDC.
Photos will be taken first come, first served. Each student will take (1) test shot and then will have a limit of (3) posed shots.
Please sign up if you intend to utilize this free service. The deadline to sign up is 4 p.m. on Tuesday, September 20, 2022.
---
Career Closet is Back
The Career Closet is a giveaway of gently worn business clothing possible to assist students in preparing for Career Fair.
The Career Closet will be held on Saturday, September 17 from 1:00pm-5:00pm (with 1:00-3:00pm designated for graduate students and seniors), and Sunday, September 18 from 10:00am-2:00pm. This event will take place in the Superior Room and Makerspace in the Memorial Union Building.
If you would like to volunteer at the event, please sign up through GivePulse or email aemarsh1@mtu.edu.
---
Homecoming Registration Now Open!
Join us in celebrating 100 years of football here at Michigan Tech! This year's homecoming celebration will include much of our usual fanfare including a royalty court, team competition, tailgate, and cardboard boat races! Register your team or a court nominee below. All registrations are due September 22nd by noon.
BLACK and GOLD never gets OLD!
---
This week on GivePulse…
Need service hours or looking for ways to support our community? Check out the volunteer opportunities below!
Parade of Nations
Since 1989, the Houghton and Hancock communities have been celebrating the rich cultural diversity of the Keweenaw through the Parade of Nations and the Multicultural Festival that follows. We are excited to continue that tradition in 2022.
Volunteers are the driving force behind this event. They help with event set up, walk in the parade, serve as parade marshals, and provide support at the multicultural festival. Explore the volunteer positions and shifts available and sign up for the one that best fits your interests! Event organizers will be in contact as the event approaches to share additional instructions and event details.
September 17th between 9 AM and 3 PM.
Sign up here!
Career Closet
The Career Closet is a giveaway of gently worn business clothing possible to assist students in preparing for the Career Fair. The event will be held on Saturday, September 17, and Sunday, September 18. We will need a lot of volunteers to make it a successful event!
Sign up here!
Usher at the Rozsa
As a Volunteer Usher, you play a critical role in creating a joyful experience at arts events. Led by Rozsa staff, you and other Ushers work together to greet guests, admit folks into the theater, assist with seating and wayfinding, connect guests to venue accommodations, and support effective crowd flow and emergency procedures. Usher roles will be decided as a team at the beginning of the volunteer shift.
September 19th at 6:30 PM
Sign up here!
---
Makerspace is open!
The Alley Makerspace is now open to all MTU students, staff, and faculty. No reservations required and all supplies and tools are completely free to use! Stop by the Makerspace in the MUB Basement from 3-9pm, Monday through Thursday for the rest of the fall semester.
If you're interested in learning more about the Alley or becoming a volunteer coach at the Makerspace, email makerspace@mtu.edu.
---
Attention All Student Orgs!!
Athletics is looking for student organizations to help collect parking fees during home Women's and Men's Basketball games. 75% of the collected fees go to the org.
Fee collection begins 75 minutes prior to game start and until either the start of the second half of a single game or the beginning of the second game of a doubleheader. Safety vests and hand warmers are provided however, students should dress appropriately for the weather. Eight people are needed per shift.
If you have any questions or are interested, email Joel Isaacson jdisaacs@mtu.edu.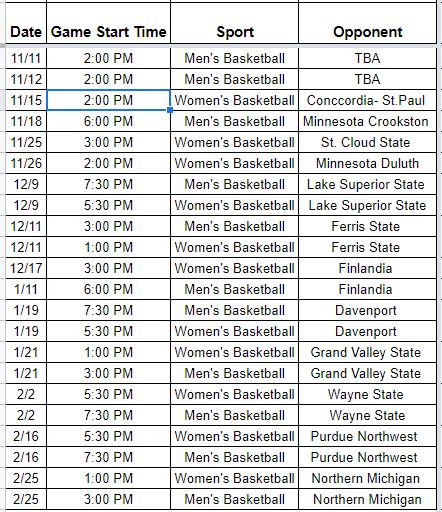 ---
Film Board Presents: Sonic the Hedgehog 2
When the manic Dr. Robotnik returns to Earth with a new ally, Knuckles the Echidna, Sonic and his new friend, Tails, are all that stand in their way.
Sonic the Hedgehog 2 is rated PG.
Friday (9/16): 5:30*, 8:30, and 11:30
Saturday (9/17): 5:30*, 8:30, and 11:30
Located on Michigan Tech's campus in Fisher 135. Tickets are $3 and concessions are $1. We hope to see you at the movie this weekend and have a great day!
*5:30 Showtimes are to be shown with subtitles now!
---
MUB Board Presents
Come out for a nice night on the lawn filled with classic carnival games and fun! Other exciting activities include snacks, prizes, music with WMTU, and even a Henna artist! We hope to see you there!

Date: 09/23/2022
Time: 6 pm – 9 pm

Interested in planning events like this? Email us at mubboard@mtu.edu to get more information on how you can join our awesome crew!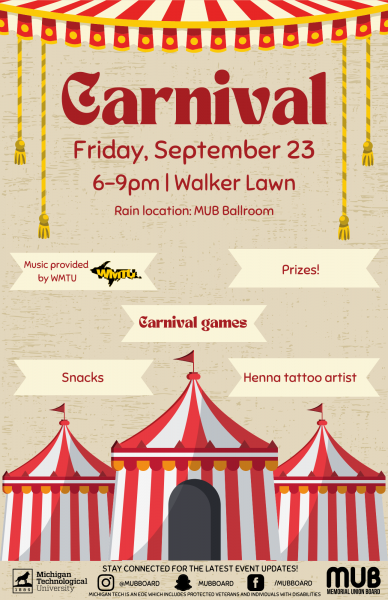 ---
GEAR UP Seeking Volunteers
GEAR UP at Michigan Tech, a program dedicated to preparing local high school students for post-secondary success, will host Gearing Up Tomorrow's Talent on Tuesday, 9/27 from 8am-3pm for local 9th-grade students. This Career Fair-esque event will feature workshops on career preparation as well as giving students a chance to speak with local companies to both practice skills they learn that day and learn about job opportunities.
We are currently seeking volunteers to aid in setup, teardown, and directing the flow of student and presenter traffic through the MUB. Volunteers may sign up for 1hr slots and need not stay all day. Lunch will be provided for volunteers.
Sign up to help with this event through this form!
Date: Tuesday, 9/27
Time: 8:00 AM – 3:00 PM
---
Rowing Club's Dine-and-Donate Event
The flyer says it all! Come on out to Soumi's and help the Rowing Club at Michigan Tech fundraise with a classic Soumi meal! If you can't make it from 12-2, you can still drop by at a different time as a portion of the profit for the entire day will be donated to the club. Just make sure to mention us when you order!
---
National Voter Registration Day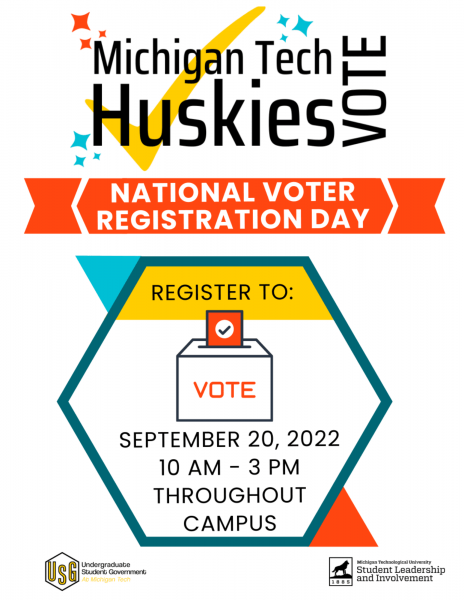 National Voter Registration Day is September 20th. Need to register? Don't worry! There will be tables throughout campus where you can register between 10am and 3pm.
---