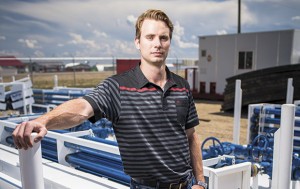 Mark Malekoff jokingly refers to his four companies as his "backup plan." The original plan was to become a star in the National Hockey League.
The Grande Prairie-born-and-raised entrepreneur was captain of the local Alberta Junior Hockey League team, the Storm, before receiving a scholarship to play for the Huskies at Michigan Technological University. Plans for an NHL career changed in Michigan, however, as Malekoff studied finance and developed an interest in business and entrepreneurship that set him up to run his own company – then companies – back in Grande Prairie.
After graduating in 2008, Malekoff returned home where he quickly found work as a business analyst with Bonnett's Energy Corp. and found an opportunity to volunteer coaching AAA hockey. Not one to sit still, he also began working towards a certified management accountant designation, which he received in 2011.
In what he calls his "spare time" between working at Bonnett's, studying for his CMA and coaching, Malekoff took on enough debt to purchase three rig mats and begin renting them out to energy services companies in and around Grande Prairie. That was the beginning of his first business, TriTech Energy Services Inc., which now rents sour service storage tanks, pipe skids, manifolds and flowlines in addition to rig matting.
Inspired by British billionaire Richard Branson's "screw it, let's do it" attitude, Malekoff eventually took on more debt to acquire a safety and training business in June 2013. That acquisition became TriTech Safety and Training Inc., Malekoff's second company, which provides at least four courses a day for oilfield personnel throughout Alberta and northeastern B.C. who require first aid, hydrogen sulfide or workplace hazardous information system training.
Was taking on debt nerve-wracking? Definitely. "You go from college, where you don't have a lot of cash, to taking on a mortgage, and then taking on debt payments," the now 30-year-old serial entrepreneur says, though he echoes Branson's optimism: "Just go for it."
This year, he decided to launch two more companies: Nakoda Energy Services and Rise Energy Services. The first business targets hydraulic fracturing companies and hopes to sell them third-party heat-capturing inflatable lid systems for their frack tanks, which he says can reduce water heating budgets for pressure-pumping companies by $20,000 per day. Rise Energy Services meanwhile offers downhole tools services to drilling companies in the field.
Asked if he has always had an inclination toward entrepreneurship, Malekoff says no. Not when he was a young boy or a teenager – he didn't have time. "I was always pretty tied up playing hockey," he says.
This story was written by Alberta Oil Staff for Alberta Oil Magazine.