Sit down with Russ Louks, management information systems professor of practice in Michigan Tech's School of Business and Economics.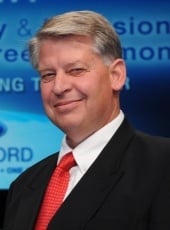 You received your BS from Michigan Tech in 1979. How has campus evolved since your time as an undergrad?
EERC had just opened. Walker was Sherman Gym. There was no Rozsa Center. The Union was about half its size. K-Day was either on Wednesday, Thursday, or Friday. A whistle blew at Noon and class was dismissed. Students piled in their cars and went out to McLain for a barbecue. Not knowing when it was going to be held was a lot of fun.
Michigan Tech's focus on academics hasn't changed.
Tech students haven't changed. They are still smart students who are technology focused.
The emphasis on experiential learning and preparation for a career has changed dramatically.
How do your nearly 30 years in industry inform your teaching?
I saw a huge technology change over my 28 years at Ford. Laptops didn't exist. Devices didn't exist. Computers were the size of a three-foot bookcase. But the concepts are the same, which is the key to longevity in the field. Eighties and nineties IT is unrecognizable, but the concepts are the same.
It's about putting what you are trying to learn into a structure you already know.
The new Emerging Technology class I teach at MTU is the same thing I was doing at Ford, interfacing with the real world, using a computer system to use information to make decisions or control a part of the physical environment. It's a realm I am still incredibly interested in.
What does it mean to be a professor of practice? 
Being a professor of practice goes back to experiential learning—I've been there, done that. I have a lot of war stories [chuckle]. I've learned how technology evolves. The trends that fizzle out. You learn to look deeper to determine if a trend is really going to make a difference, and how to apply it.
A technology whose hype tails off tend to be the ones who deliver on the offerings. MIS professionals ask: What's behind this and how can we take advantage of the technology to solve business problems? Getting across the idea that technology is great, but it must solve a problem . . . a technology problem, a business problem, a social problem. Chasing a solution without a problem is wasting money.
You have a diverse background in computer technologies including experience with data collection technologies including 2-D barcodes, RFID technologies, computer networking, serial communications, and handheld computing devices. Why is it important for business students to have technology knowhow?
You can't run a business today—even a mom and pop shop—without technology solutions. Whether you are in IS, CS, or any other area, you have to touch technology. We must ask: How can technology advance my business? Can I take advantage of it before others? What negative impacts will it have? Will it put me out of business? How will we use it? How will we make money?
It's an imperfect science.
As the advisor of IT Oxygen Enterprise, what does the team have in store for this academic year?
We've got a stream of all-new projects this year including data science projects; we've got a project with the Department of Defense, where we will research how to keep mobile networks alive in extreme environments; a project with Microsoft; a project with Ford; and an internal project within Enterprise to develop an easy-to-use web template for the dozens of Enterprise teams on campus.
IT Oxygen is multidisciplinary, bringing together students from computer science, MIS, engineering, and scientific and technical communications. All components are necessary. All skills are complementary–not in competition. Any overlap in skills is what allows us to communicate.
One of your research areas is information security. What can a layperson do now to protect themselves?
Be vigilant. The biggest cybersecurity threat in the world today is people. Perform a risk analysis just like in a financial situation. There isn't a business immune from cybersecurity issues. You are responsible for the data you collect and store. Change passwords. Use strong passwords. Implement two-factor authentication. It can be a pain, but it's today's world. Every morning I check my bank accounts. The cost of convenience is vigilance.
What keeps you motivated?

If you are really enjoying what you are doing, you keep up on trends without realizing it; you read for pleasure. It doesn't feel like a burden (if it feels like that, you are in the wrong job). Reading, going to events, and learning—not to learn—but because there's an interest. Working with students is a joy; it's easy to stay motivated.
What has been your biggest source of pride in working with Huskies?
Watching the transformation that takes place over the course of an internship. The light turns on and students return to campus as young professionals. Just because I teach doesn't mean students learn. It's incredibly rewarding when students come back and say, "I get it now." Seeing them progress and seeing their success makes this job worthwhile.