Category Archives: Enterprise
Sit down with Russ Louks, management information systems professor of practice in Michigan Tech's School of Business and Economics.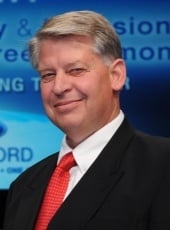 ---
Where does a giant international retailer turn when it needs innovative IT support?  Michigan Technological University, of course.
Target Corporation, with international headquarters in Minneapolis, is the first retail firm to participate in Michigan Tech's signature Enterprise program. In the Enterprise program, teams of students work with a business or industry sponsor on a real-world problem that the sponsor would like the students to help solve.
ITOxygen is an Enterprise that specializes in information technology (IT) solutions. Their motto: We breathe new life into information technology projects.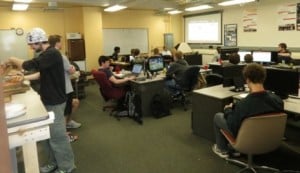 Target actually presented ITOxygen with several problems involving mobile app development and computer infrastructure. Over the school year, the students developed an app for the iPad that measures wi-fi connectivity throughout Target stories. Another app lets shoppers with Android smartphones build a shopping list and share it with others.
The shopping list app will be particularly useful for event planners, teachers and parents buying school supplies, or groups of students or others living together.  "With it, you can avoid buying 200 boxes of Kleenex and no crayons, Russ Louks, ITOxygen's advisor, explains.
The ITOxygen students also wrote scripts to automatically deploy servers nationwide. Then they were invited to present their work to a meeting of high-level corporate executives.
Target not only put money into the project, they really integrated the students into the corporate IT structure, says Rick Berkey, the Enterprise liaison between Michigan Tech and corporate sponsors.  "The students are working right along with Target IT professionals, learning the language of the industry," Berkey says. "That level of support and time commitment is unusual."
Target has enjoyed recruiting for technical talent at Michigan Tech, says E. B. Hakkinen, process consultant for Target Corporation's Technology Solutions. "Target was interested in continuing to build upon our strong relationship with Michigan Tech, she explains. "We wanted to deepen our partnership and technology brand on campus.   We saw a unique opportunity through the Enterprise Program, specifically ITOxygen, to brand Target as an employer of choice for technology students, while collaborating with Michigan Tech students and giving them a first-hand experience of what it could be like to work for Target."
"We learned a lot in our first year, 2012-2013, working with ITOxygen," she continues. "This past year we experienced success with all of our ITOxygen projects. We found the best approach is to allow the students to be innovative in their solutions while we provide the support and tools necessary for them to be successful.  We look forward to continuing our relationship and seeing innovative solutions from the ITOxygen students in the coming school year."
As Berkey puts it, without a hint of a grin, "the ITOxygen students have been right on target."
One of the students, David Shull, a computer engineering major, was especially impressed with Target's commitment to integrating technology into retail sales.  "It's really exciting how innovative they're being in mobile and web technologies," he says.
Shull feels that the Enterprise project teaches skills that are hard to learn in a traditional classroom setting. "The most important thing I gained was the experience working on a corporate project with people from all over the country," he says.
Projects like ITOxygen's work with Target prepare students for their future in the working world, which is just what Target—the first retailer to come to Michigan Tech's Career Fairs–wants. "Target is recruiting skilled IT employees," says Berkey. "It's more than a retail store."
Shull says students need the kind of experiences the Target Enterprise project offered. "It's too easy for students to think they know what 'real' work is like," he says. "I hear students complain about how a concept they've learned won't be of use in the real world. Opportunities like the Target Enterprise project give students hands-on experience that is guaranteed to be applicable in the real world, and demonstrates the value of concepts that were learned previously. They also facilitate self-learning, engineering management and other key skills.
"Plus—there is something really cool about walking into a Target store and knowing that you wrote an app the employees or shoppers are using."
This story was originally posted in Michigan Tech News and written by Jennifer Donovan. To see the original story please view this link.
---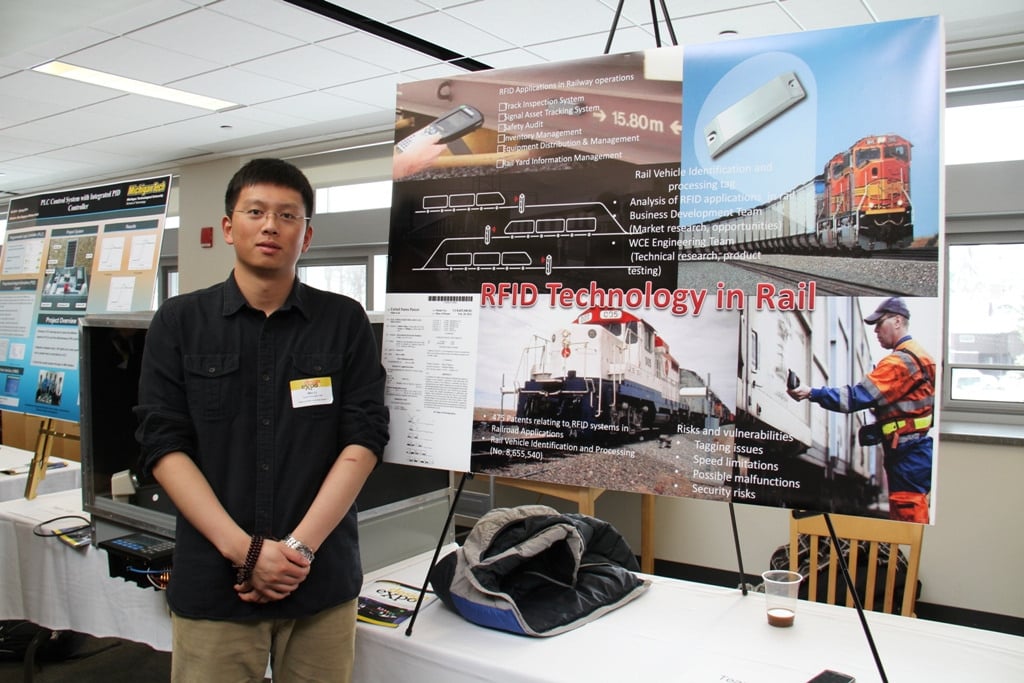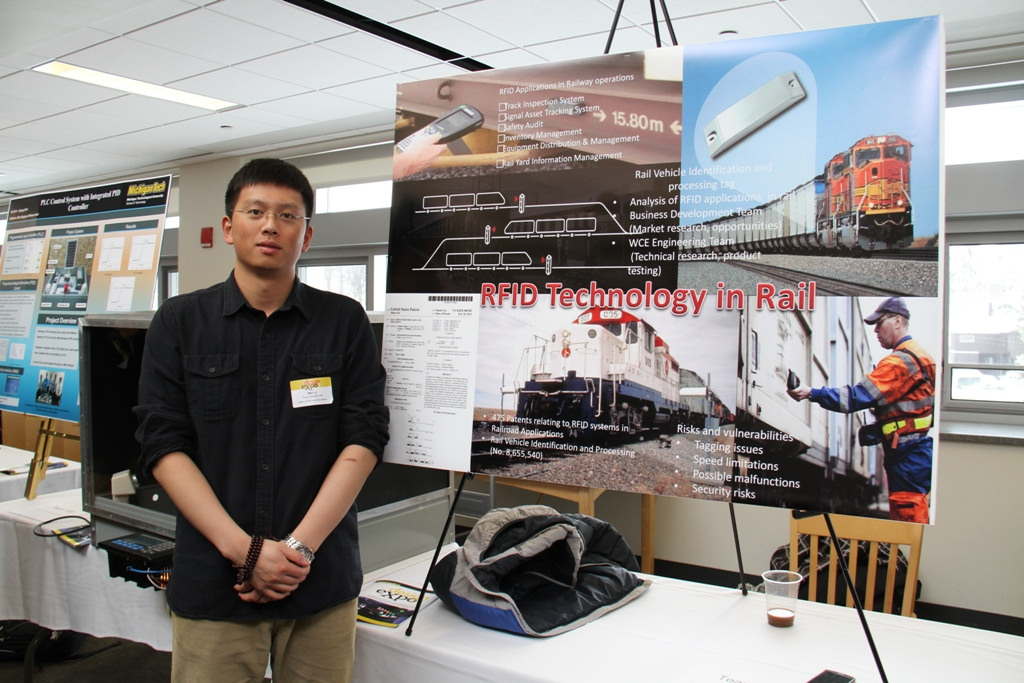 A team from the Business Development Experience Course (BUS 4992) tied for second place in the category of Design Expo Image Contest, in 2014's Design Expo.  This accomplishment is particularly impressive, as over 600 Michigan Tech students across all disciplines competed in this year's hands-on, discovery-based learning program, hosted by the Institute for Leadership and Innovation and the College of Engineering.
The team, titled "Balise and RFID Use in Rail Systems," consisted of members Frank Kampe ('14, BS in Marketing), Min Li ('14, BS in Operations and Systems Management), Daniel Holmberg ('14, BS in Management), and Kevin Heras (projected graduation: Fall 2014, majoring in Management).  In order to participate in the Design Expo, team members took the Business Development Experience two-course sequence, where business school students ascertain the commercial viability of potential projects.  Since the implementation of the courses, business school students have been teaming up with the Enterprise and Senior design project teams to look at their technologies from a business perspective.
Team Advisor and Assistant Professor of Entrepreneurship and Innovation, Saurav Pathak, was pleased with his students and the work they conducted.  "This group in particular made valuable recommendations to Technical Expert Network (TEN) on how to expand the use of Radio Frequency Identification (RFID) technologies in the US rail industry," Pathak remarked.  He added, "The fact that business school students were placed as award winners in an event that predominantly highlights the technological feats at Michigan Tech is proof that there is value in ascertaining the business prospects of these technologies."
Congratulations to the team on their award!
---

The Upper Peninsula Health Care Network (UPHCN) agreed to match donations received for the student-run Mobile Wellness Systems project, which is converting a 15-passenger van into a mobile health clinic for Ghana. The UPHCN gave their matching donation to the team on Wednesday at an event held in the Rozsa Lobby. Administrators from UPHCN, Aspirus Keweenaw, Baraga County Memorial and Portage Health Systems were in attendance.
Students from Michigan Tech's Pavlis Institute for Global Technological Leadership, in collaboration with the International Business Ventures (IBV) Enterprise and a School of Technology Senior Design team, have joined forces on the project. In addition to van reconfiguration, students are coordinating with area hospitals to secure donations of working, quality, used medical equipment for incorporation into the van.
The team also accepts monetary donations to purchase other supplies for the project and cover shipping costs associated with transporting the van to Ghana later this spring. Michigan Tech's Superior Ideas crowd-sourcing website was contacted and helped solicit project funds.
Mobile Wellness Systems seeks to provide diagnostic, preventative and treatment services to Ghanaians who live in villages without easy access to larger medical facilities due to their remote location and who are not serviced by international aid organizations such as Doctors Without Borders. The team's mission is to equip doctors from larger city hospitals with the tools needed to provide healthcare to these disadvantaged populations living in villages located outside of city centers.
The prototype this year's students are developing will be used for testing in Ghana this summer by local doctors who will be treating and caring for many people who previously had limited access to adequate healthcare. These doctors will provide invaluable feedback concerning the mobile clinic allowing this sustainable project to expand to more villages in the future.
This story was originally published by Paige Hackney in Tech Today.
---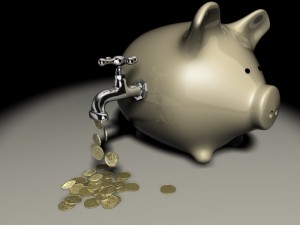 Innovation and Industry Engagement and the School of Business and Economics will host the next panel discussions in the Savvy Entrepreneur series, from 5:30 to 8 p.m., Tuesday, April 12, in the large conference room of the ATDC at 1402 Sharon Ave.
The series provides early- to mid-stage technology entrepreneurs with guidance on key topics that all startups must navigate to realize success. This month's topic includes "Managing Cash Flow."
Generate new high-value contacts across the Great Lakes region, while gaining technology, entrepreneur, best-practice insights. As well, learn tricks and tips on understanding cash flow and maximizing the effectiveness of your company.
Event Panelists:
Todd Rammler is the president of Michigan CFO Associates.
Pavan Muzumdar is the CFA-managing director of Pieris Capital.
Mike Semanco is president and chief operating officer for Hennessey Capital.
Jeremy Sanger is founder and majority owner of Ventech LLC.
Attendance is free, and all students and community members are welcome. RSVP to John Diebel (TED) at 487-1082 or at jfdiebel@mtu.edu .
Light refreshments will be served.
For more information, see Enterprise Forum .
---