Last Thursday evening, Vice President of Trust Investments at Superior National Bank, Chris Gariepy, spoke to a full room of Michigan Tech students as he shared his knowledge on common sense investing.  Chris discussed highlights from his career on investing and money management.  This event was supported by the Finance Club which promotes interest and knowledge in the field of Finance. The objectives of the Club are to increase interest in finance among Michigan Tech business students by relating the experiences of students, professors and alumni and to provide business students a comprehensive understanding of the finance industry.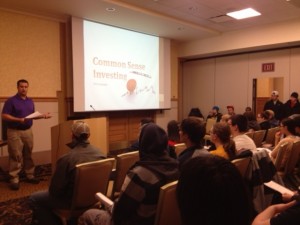 Chris also provided valuable insight into what it takes as a new college graduate to start investing.  Senior, finance major Walker Derby, said "I really enjoyed hearing from someone local who had pertinent advice for people going into the field as well as for individuals who are looking for a greater grasp on financial knowledge."  Derby also noted that having someone with extensive experience in the financial industry address questions was enlightening, especially for students who are new to the field.
Students in attendance from all School of Business and Economics majors benefited from the event.  The information that Chris brought was insightful on real world applications and interactions of finance, management, economics, and accounting concepts.