CCI Systems, a networks solution company headquartered in Iron Mountain, Michigan, has donated 50 pieces of computer and networking equipment to the School of Business and Economics at Michigan Tech.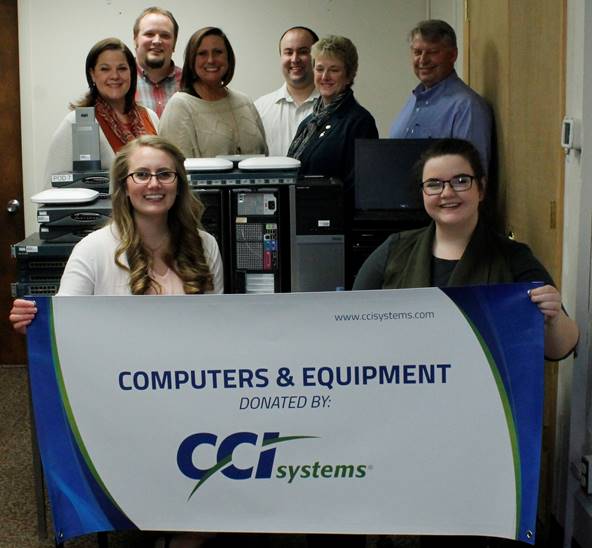 The donation will support the new Information Systems Student Lab of the Management Information Systems (MIS) program, created to give Michigan Tech students an opportunity to experiment with industry hardware and software in a free-form environment.
The MIS faculty reached out to industry partners from their advisory board, asking for gently-used, commercial-grade equipment for networking and computing. CCI Systems, one of the advisory board's industry partners, put together a large donation that exceeded the MIS program's expectations.
"The MIS students at Michigan Tech will benefit substantially from this opportunity to learn about networking and cyber security technologies through hands-on experimentation in a safe lab environment," said Jeffrey Wall, assistant professor of management information systems at Michigan Tech. "The lab will provide them with further opportunities to experiment and interact with different operating systems and programs. The School of Business and Economics and the Management Information Systems faculty greatly appreciate CCI Systems' generous donation of lab equipment."
MIS advisory board member Evan Rice, director of information and analysis services at CCI Systems, said, "CCI believes in what the MIS program is trying to achieve. The future of our business depends on new, highly capable, technical professionals entering the job market. We find that Michigan Tech is uniquely positioned, both technologically and geographically, to provide those future employees. So for us, giving back to these programs is a no-brainer."
-Jenn Donovan – Tech Today, March 21, 2017
[youtube]https://www.youtube.com/watch?v=YZ8Nbu6uhdE[/youtube]