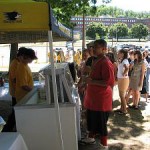 • View pictures from the event
• Summer Youth Programs
Youth Programs celebrated 35 years of introducing youth to science, engineering, technology and Michigan Tech with an ice cream social.
President Glenn Mroz praised the Youth Programs staff and alumni who have developed the Youth Programs over the past 35 years and seen it grow from 60 summer youth program students to several hundred a year.
Youth Programs organizes Summer Youth Explorations, Women in Engineering, Explorations in Engineering, American Indian Workshop and Women in Computer Science.
The event was held to celebrate the years of excellence in precollege programming and recognize the impact Summer Youth Programs has had on over 35,000 students.