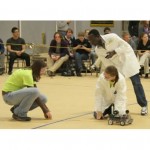 • View the Chem-E Car video
• View pictures from the event
American Institute of Chemical Engineers (AIChE) Regional Conference and Contests were held at Michigan Technological University April 8 and 9th 2011.
For the Chem-E Car, team members design and construct a chemically powered vehicle within certain size constraints. This vehicle must be designed to also carry a specified cargo. The teams will be told at the time of the competition the distance that the car must travel and the specified cargo that the vehicle will carry. Entries deemed unsafe by the judges will be disqualified. The winner will be determined by a combined score, for traveling the correct distance, and for creativity. Teams compete at the regional conferences, the top 5 chem-e car teams from the region move on to compete at the national conference.
AIChE Jeopardy Contest, with the difference that the section only has topics in chemical engineering such as history, fluid flow, thermodynamics, heat transfer, and reactor design. There was also a Paper Competition and a Team Poster Session
More information at
AIChE North Central Regional Conference