Written by Karen S. Johnson, Communications Director, College of Computing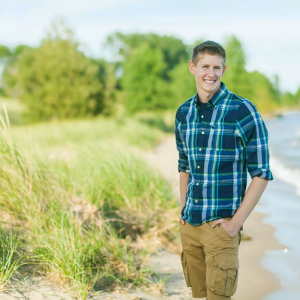 Tyler Marenger's career goals include constantly improving himself, facing and overcoming the challenges he encounters along the way. The Michigan Tech Software Engineering undergraduate is making sure he's prepared.
This spring, Marenger was awarded Michigan Tech University Honors, which recognizes the academic excellence of undergraduates.
Since his enrollment as a first-year student in fall 2017, Marenger, from Gladstone, Mich., has appeared multiple times on the 4.0 Deans' List and the Deans' List. In fall 2020 (December), he expects to complete his Bachelor of Science in Software Engineering and a minor in Mathematical Sciences.
Marenger says this recognition on the University Honors list encourages him as he continues on his academic journey and pursues his life goals.
"It is an incredible honor to have such a prestigious University recognize and commemorate me on my accomplishments," Marenger says. "I also truly appreciate the words of recognition and encouragement from the College of Computing and the Computer Science department. I am proud to say that I am a Michigan Tech Husky."
University Honors are reserved for degree-seeking students who rank in the top 2 percent of their class and maintain at least a 3.50 cumulative GPA while carrying 12 credits or more for both the fall and spring semesters.
More accolades
In addition to University Honors, Marenger has three times received the Department of Mathematics' Certificate of Merit for Outstanding Academic Achievement for his performance in the courses MA 2160, Calculus II; MA 3160, Calculus III; and MA 2720, Statistical Methods. For one semester, Marenger was a teaching assistant for MA 3160, Calculus III, grading mathematical essays (write-ups) and student coursework.
Marenger is a three-semester member of the Husky Game Development Enterprise, working with his teammates on the game, "Lost in Mazie Mansion," which won Honorable Mention honors at this spring's Design Expo. His primary role on the team is software development, and he also contributes to the design and layout of the game. His team plans to continue development of the game in the fall 2020 semester.
Making time for personal pursuits
Marenger says that by breaking tasks into manageable pieces, he feels he can better manage his time, meet his goals, and make time for personal pursuits.
"I have found that breaking up my work/studying in order to exercise helps promote a high level of energy and encourages me to complete my workload," he notes. "Dedicating specific time slots to reduce my workload helps me get done in a timely manner. That way, I can enjoy my personal time exploring my interests or spending time with my friends."
Marenger identifies his most substantial hobby as fitness, and says he enjoys pushing himself towards self-improvement. He is an avid weightlifter, constantly setting new goals and spending countless hours at the gym. He enjoys outdoor and recreational activities, as well, including jet skiing, dirt biking, hiking, skiing, camping, and fishing.
Supportive faculty mentors
Both Associate Professor Ali Ebnenasir, Computer Science, and Elizabeth Reed, a former senior lecturer in Michigan Tech's Department of Mathematics, have been especially supportive regarding Marenger's academic work, he says.
After finishing his MA 2720, Statistical Methods, course in fall 2018—with an outstanding final grade—and earning the Mathematics department's Certificate of Merit—Marenger shares that in an email Reed extended congratulations and best wishes, encouraging Marenger to seek a minor in Mathematical Sciences and offering to write a reference letter.
And shortly after completing the senior-level CS 4710, Model-Driven Software Development class in spring 2020, Marenger recalls that Ebnenasir both congratulated him on his performance in that class, and encouraged him to consider continuing his education beyond the bachelor of science. CS 4710 focuses on mathematical methods for the design and verification of software systems. Marenger has since shared his resume with Ebnenasir, and earlier this summer they discussed Michigan Tech's Computer Science Ph.D. program and funding and research opportunities.
"In spring 2020, Tyler demonstrated excellent performance in solving individual assignments, as well as professionalism in group projects," Ebnenasir confirms, noting Marenger's positive attitude towards learning new topics.
"Tyler is meticulous and hardworking, and I also I am sure that he will be a star if he maintains and improves his outstanding self-discipline and perseverance," Ebnenasir says. "Good luck Tyler, and we hope to see you back for your Ph.D. at Michigan Tech in the future!"
Collaborations in software development
Marenger clearly excels at learning and mastering the ideas and content in his Computer Science courses. He says he especially enjoyed CS 4760, User Interface Design and Implementation, for which he and his CS 4760 team developed an application for use with the Micro:bit Web USB Grapher device, part of a teaching tool and curriculum aid already widely used for computing-related learning by K-12 teachers and students.
Marenger and his team reasoned that since the Micro:bit pocket-sized computer can record data through a variety of sensors, this capability, along with its board sensors and its extensibility, could also be used to augment classroom science demonstrations.
"Our application is designed to take the data that the pocket-sized Micro:bit provides and display it on one or more graphs," Marenger explains. "The application graphs, manipulates, and saves data collected on the Micro:bit, which will help expose K-12 students to computing and programming principles while they learn about a wide variety of scientific phenomena."
The team's development and deployment of their React.js application was accomplished in collaboration with the Michigan Tech Humanities department, the Michigan Tech Graduate School, and Bill Siever, a teaching professor in the Computer Science and Engineering department at Washington University of St. Louis, Mo.
Building the future
Looking forward, Marenger says he will continue furthering his education and building his software development skills.
"I plan to constantly educate myself on new and upcoming technologies so that I can pursue advancements in the field of computer science," he confirms. "I want to gather as much industry knowledge as I can so that one day, I can take on project leadership roles or develop a product of my own that I can manage and promote."