Written by Karen S. Johnson, Communications Director, College of Computing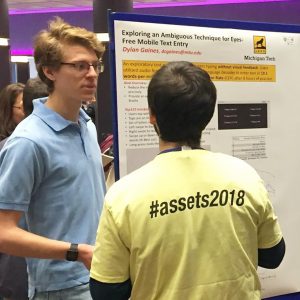 Computer Science master's student and doctoral candidate Dylan Gaines is one of three Michigan Tech students recently awarded a multi-year National Science Foundation (NSF) Graduate Research Fellowship.
The oldest STEM-related fellowship program in the United States, the prestigious NSF Graduate Research Fellowship Program (GRFP) recognizes exceptional graduate students in science, technology, engineering and mathematics (STEM) disciplines early in their career and supports them through graduate education.
NSF-GRFP fellows are an exceptional group; 42 fellows have gone on to become Nobel Laureates, and about 450 fellows are members of the National Academy of Sciences.
The additional Michigan Tech graduate students who received the fellowship are Greta Colford '19 (Mechanical Engineering) and Seth Kriz (Chemical Engineering).
The fellowship provides three years of financial support, including a $34,000 annual stipend for each fellow and a $12,000 cost-of-education allowance for the fellow's institution. In addition to financial support, the GRFP provides opportunities for research in national laboratories and international research.
Read an April 15, 2020, Tech Today article about this here.
Four years, two degrees
Gaines, who arrived as a first-year student in fall 2016, was awarded the Bachelor of Science in Computer Science in spring 2019, also completing a concentration in Game Development. He's pursuing on his master's now, which he expects to complete in December 2020. He has also begun working on his Ph.D. in Computer Science at Michigan Tech, which he anticipates completing in spring 2023.
Commenting on Gaines' award, Department of Computer Science Chair Dr. Linda Ott says, "All of us in the Department of Computer Science are very excited that Dylan is being awarded an NSF Graduate Research Fellowship. This is clear affirmation that Dylan is an excellent student, and that even as an undergraduate he demonstrated strong research skills."
"I am very thankful for this award, and for everyone that supported me through the application process and helped to review my essays" Gaines says.
Early interest, a first-year research assistant
Ott notes that it is also a tribute to Gaines's advisor, CS Associate Professor Keith Vertanen who has established a very successful research group in intelligent interactive systems.
"Dr. Ott encouraged the pursuit of research in her CS 1000 class by bringing in faculty like Dr. Vertanen to present what they were working on," Gaines says. "Because of this, I started doing research with Dr. Vertanen my first semester at Michigan Tech, and he has been nothing but supportive the whole time," adding, "all of the faculty and staff at Michigan Tech are very supportive of students and make teaching a priority."
Vertanen recalls that in fall 2017, Gaines approached him following a talk about Vertanen's research in the CS department's first-year seminar class.
"I was so impressed by him that I subsequently hired him as an undergraduate research assistant, something I would normally not do with a first-year student," Vertanen confirms. "Since then, he has been a key contributor to my research group."
"It became quickly clear to me he was a talented, hard-working, and curious researcher," Vertanen says. I was pleased to learn NSF recognized this, as well, by awarding him a GRF. I'm excited to see what he'll accomplish during his Ph.D."
Text entry techniques
Gaines's research with Vertanen focuses on text entry techniques for those with visual impairments. His master's and doctoral research will continue this work. He also plans to develop assistive technologies for use in Augmented Reality.
His aim is to make smartphones—and technology in general—more accessible for people with visual impairments. Looking ahead, Gaines definitely wants to continue to pursue research, but he's unsure yet if it will be in academia or in industry. "At this time, I am open to both possibilities," he says.
In his first two years at Michigan Tech, Gaines was instrumental in research leading to two papers accepted for the 2018 and 2019 ACM Conference on Human Factors in Computing Systems, with acceptance rates of 24% and 26%, respectively. For both papers, Vertanen notes that Dylan helped design and execute the user studies, and also provided careful feedback that improved the submitted papers, the rebuttals, and the final papers. CHI is the flagship conference in human-computer interaction.
During his undergraduate studies, Gaines worked with Vertanen on his NSF project, "CAREER: Technology Assisted Conversations." In the first year of his PhD, he worked on two NSF projects with Vertanen, "CHS: Small: Rich Surface Interaction for Augmented Environments" and "CHS: Small: Collaborative Research: Improving Mobile Device Input for Users who are Blind or Low Vision."
Gaines plans to continue his research in line with the above project, "Improving Mobile Device Input for Users who are Blind or Low Vision," though now funded by the GRF. See below for more information about the research projects.
"Dylan is one of the strongest and easiest to work with students I have encountered in over ten years of advising undergraduate research students," Vertanen concludes. "I have no doubt he will produce an exciting and impactful portfolio of research during his Ph.D. studies."
An active life
Gaines is an active member of Triangle Fraternity, which he says helped to shape who he is as a person and as a scholar. Triangle is a fraternity of engineers, architects, and scientists that develop balanced men who cultivate high moral character, foster lifelong friendships, and live their lives with integrity, according to the organizations' website.
As an undergraduate, Gaines was active in the Organization for Information Systems, and he served on the Dean's Student Advisory Council. He also participated for three years in Husky Game Development (HGD) Enterprise, capping his final year as HGD president and coordinating 66 students on 12 teams. In HGD, student teams design and build video games, often in collaboration with sponsors and alumni.
In summer 2019, he helped with a week-long Computer Science department Summer Youth Program for high school girls, assisting in development of the web API used in their projects, and helping the girls build their mobile apps.
Gaines competed in three seasons for the Huskies as a member of the cross country and track teams, Now, he's a graduate assistant coach for the team. "I started running cross country about nine years ago," Gaines affirms. "I ran in the 8k and the 3k steeplechase on the MTU team for three years during my undergrad. I have loved watching the Cross program grow and improve throughout my time here."
View Gaines's Michigan Tech Cross Country record here.
Trust, a novel interface, peer mentoring
As a third-year undergrad, Gaines conducted his own research project investigating a novel interface for eye-free text entry, developing an Android application and integrating it with the statistical decoder used in Vertanen's research group.
"This decoder has evolved over many years and has served as the basis for a variety of projects," Vertanen explains. "As such, it has a large code base with a complex API. Despite this, Dylan was able to incorporate the decoder into his project with only minimal guidance. He asked questions when stuck, but almost always figured out solutions on his own. His software engineering skills are excellent and he is one of the few students I trust to make changes to the decoder."
An application programming interface, or API, is a computing interface which defines interactions between multiple software intermediaries. It defines the kinds of calls or requests that can be made, how to make them, the data formats that should be used, the conventions to follow, among other functions.
Upon completing the prototype of his eyes-free text entry interface, Gaines designed and conducted a longitudinal user study.
"In designing the experimental methodology for his study, he routinely challenged me with probing and insightful questions about how the study should be designed," Vertanen says. "I felt like I was working with a senior Ph.D. student rather than an undergraduate. I cannot overstate how impressive this is; many students just blindly follow my suggestions, even my bad ones! Now, whenever I design a new user study, I always discuss it with Dylan as this helps refine the design and spot problems."
Vertanen also asks his other students to pilot their studies with Gaines, as he often provides feedback that improves their studies.
ACM ASSETS 2018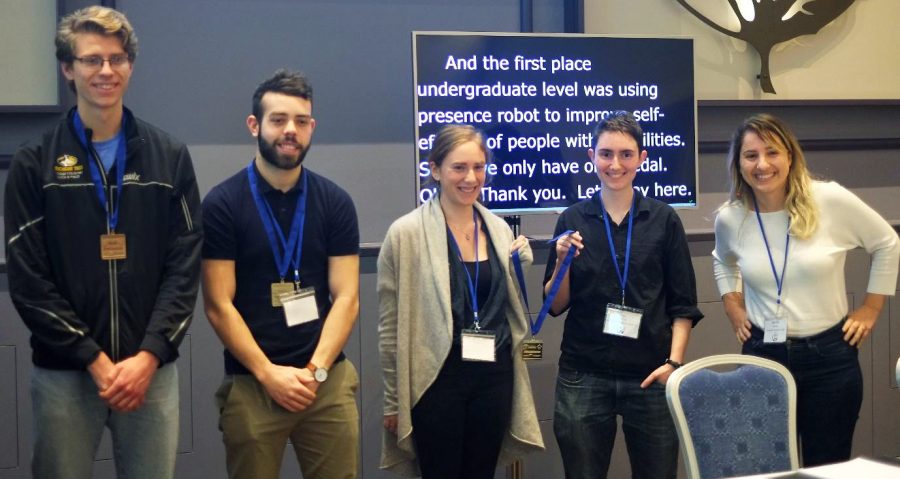 Gaines's eyes-free text entry interface work culminated in his solo submission to the ACM ASSETS 2018 Student Research Competition (SRC), "Exploring an Ambiguous Technique for Eyes-Free Mobile Text Entry." And his related technical paper was accepted by the SRC competition, which had a 50% acceptance rate.
In October 2018, Vertanen and Gaines traveled to Galway, Ireland, where Gaines presented a poster and a talk at ASSETS 2018 about his interface, Tap123. Tap123 offers the potential for faster and easier-to-learn text input for users who are visually impaired. ACM ASSETS is the premier venue for research on assistive technologies and accessible computing.
"His writing skills are excellent; he produced a quality paper with minimal guidance from me," says Vertanen of Gaines's ASSETS 2018 participation. "At his poster presentation, he did an excellent job communicating his research and answering questions, and he advanced to the final round, where he gave an excellent talk to the entire conference, winning third-place in the undergraduate category.
Significant impact, contribution
Vertanen reflects that while Gaines is clearly very bright, he also demonstrates an ability to critically assess his understanding of a topic and asked questions whenever he suspects his solutions might be incorrect.
In his role as Dylan's research advisor, Vertanen encouraged Dylan, when writing he was writing his research plan, to not only incorporate feedback he received presenting at ASSETS, but also to think about how his work might be relevant in a post-mobile phone world. I was pleased with the research plan he created," Vertanen says.
Vertanen predicts that Gaines's planned work will significantly impact the utility of future AR interfaces for people with visual impairments, adding, "More broadly, his work may also impact everyone, since limitations of device or situation may make audio-only AR an attractive alternative to visual-based AR interaction"
And Gaines has a head start on the publication process. "Throughout his time in my group, he has shown a keen interest in the academic publication process," Vertanen says of Gaines. "This has already manifested itself; as a first-year Ph.D. student he has one paper in submission and another ready for submission."
With this publication experience and motivation, Vertanen expects that Gaines's Ph.D. research will be disseminated widely. Further, this work on interfaces for those with disabilities will provide motivating material in the College of Computing's ongoing efforts to recruit students who are typically underrepresented in computer science.
NSF Research Projects
CAREER: Technology Assisted Conversations
Sponsor: NSF
PI: Keith Vertanen
Abstract: Face-to-face conversation is an important way in which people communicate with each other, but unfortunately there are millions who suffer from disorders that impede normal conversation. This project will explore new real-time communication solutions for people who face speaking challenges, including those with physical or cognitive disabilities, for example by exploiting implicit and explicit contextual input obtained from a person's conversation partner.
The goal is to develop technology that improves upon the Augmentative and Alternative Communication (AAC) devices currently available to help people speak faster and more fluidly. The PI will assemble teams of undergraduates to develop the project's software, and he will host a summer youth program on the technology behind text messaging, offering scholarships for women, students with disabilities, and students from underrepresented groups. Funded first-year research opportunities will further help retain undergraduates, particularly women, in computing.
CHS: Small: Rich Surface Interaction for Augmented Environments
Sponsor: NSF
PI: Keith Vertanen
Co-PI: Scott Kuhl
The preliminary data for this project was developed through an Institute of Computing and Cybersystems faculty seed grant funded by Michigan Tech alumnus Paul Williams. Read a blog post about this research here.
Abstract: Virtual Reality (VR) and Augmented Reality (AR) head-mounted displays are increasingly being used in different computing related activities such as data visualization, education, and training. Currently, VR and AR devices lack efficient and ergonomic ways to perform common desktop interactions such as pointing-and-clicking and entering text.
The goal of this project is to transform flat, everyday surfaces into a rich interactive surface. For example, a desk or a wall could be transformed into a virtual keyboard. Flat surfaces afford not only haptic feedback, but also provide ergonomic advantages by providing a place to rest your arms. This project will develop a system where microphones are placed on surfaces to enable the sensing of when and where a tap has occurred. Further, the system aims to differentiate different types of touch interactions such as tapping with a fingernail, tapping with a finger pad, or making short swipe gestures. This project will investigate different machine learning algorithms for producing a continuous coordinate for taps on a surface along with associated error bars.
CHS: Small: Collaborative Research: Improving Mobile Device Input for Users who are Blind or Low Vision.
Sponsor: NSF
PI: Keith Vertanen
Abstract: Smartphones are an essential part of everyday life. But for people with visual impairments, basic tasks like composing text messages or browsing the web can be prohibitively slow and difficult. The goal of this project is to develop accessible text entry methods that will enable people with visual impairments to enter text at rates comparable to sighted people. This project will design new algorithms and feedback methods for today's standard text entry approaches of tapping on individual keys, gesturing across keys, or dictating via speech.
Publications by Dylan Gaines
Vertanen, K., ​Gaines, D.​, Fletcher, C., Stanage, A., Watling, R., Krisstensson, P.O. 2019. VelociWatch: Designing and Evaluating a Virtual Keyboard for the Input of Challenging Text. In ​Proceedings of The ACM Conference on Human Factors in Computing Systems (CHI '19)​.
Gaines, D., Exploring an Ambiguous Technique for Eyes-Free Mobile Text Entry. 2018. In ​Proceedings of the 20t​ h​ International ACM SIGACCESS Conference on Computers and Accessibility Student Research Competition​ ​(ASSETS '18)​.
Vertanen, K., Fletcher, C., ​Gaines, D.​, Gould, J., Kristensson, P.O. 2018. The Impact of Word, Multiple Word, and Sentence Input on Virtual Keyboard Decoding Performance. In ​Proceedings of the ACM Conference on Human Factors in Computing Systems​ ​(CHI '18)​.
More Background
The Deans' Student Advisory Council, College of Business, serves to foster effective communication among the Dean's Office, faculty, and students, and provide advice to the Dean on matters relating to undergraduate business education and the College community.
Husky Game Development Enterprise (HGD). The mission of HGD is to design and develop games for business, education, and fun. We work as an interdisciplinary, student-run enterprise that fosters productivity, creativity, and effective business practices. Our goal is to create quality software that will attract and satisfy industry sponsors.
The Institute of Computing and Cybersystems (ICC) is the research arm of the Michigan Tech College of Computing. It leads and promotes opportunities for faculty and students to work across organizational boundaries to create an environment that is a reflection of the contemporary technological innovation that mirrors today's industry and society.
The National Science Foundation (NSF) is an independent federal agency created by Congress in 1950 "to promote the progress of science; to advance the national health, prosperity, and welfare; to secure the national defense.
The NSF Graduate Research Fellowship Program (GRFP) recognizes and supports individuals early in their graduate training in Science, Technology, Engineering, and Mathematics (STEM) fields.
The Organization for Information Systems (OIS) is a student organization focused on the technical and professional development of its members.
Triangle Fraternity was founded in 1907 by sixteen engineers at the University of Illinois. From the start, it was meant to be a place where men of similar majors could socialize, support each other's academic pursuits and better prepare themselves for successful careers. Since that time, our membership has grown and expanded to include mathematics and the physical sciences as well as architecture, making us STEM long before the term was coined in 2001. Today, we continue to provide a unique social, academic and professional experience for STEM majors.