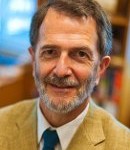 Wayne D. Pennington (GMES) American Geosciences Institute past-president, recently concluded a tour for the new Science, Technology and Innovation Expert Partnership (STIEP) speaker series. Part of the US Department of State's Targets of Opportunity Program, the STIEP speaker series promotes science diplomacy abroad by connecting traveling scientists with local embassies and other community networks in the region. Participants have the opportunity to exponentially increase the reach of their research while simultaneously promoting key issues for science diplomacy, including the importance of innovation, the scientific peer review process, and promoting women in STEM fields.
Pennington traveled to Tyumen, Russia, in December to teach a short course on seismic petrophysics for members of the oil and gas industry there. While in Tyumen, in collaboration with the consulate in Yekaterinburg, Russia, Pennington had the opportunity to address two universities through the STIEP speaker series. Pennington presented to Tyumen State Oil and Gas University on time-lapse seismic observations of unintentional regional gas blowdown in the Gulf of Mexico, and to Tyumen State University about methods of unconventional oil and gas development.
"Speaking with local communities and young geoscientists about my research and recent advances in technology in the US was an invaluable opportunity" said Pennington. "I was particularly touched by the sincerity and depth of interest of the students and young researchers at those universities. The STIEP speaker series helps bring researchers together to address global challenges facing the international scientific community. In this case, the sustainable development of oil and gas resources."
Cooperating partners for the Science, Technology and Innovation Expert Partnership include the American Association for the Advancement of Science (AAAS), the American Chemical Society (ACS), the American Society of Microbiology (ASM), the American Institute of Physics (AIP), the American Society of Tropical Medicine and Hygiene (ASTMH), the Association of American Engineering Societies (AAES), the American Society of Civil Engineers (ASCE), the National Academy of Sciences, the Smithsonian Institution, and the US Department of State.