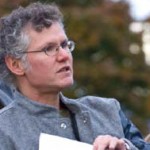 Michigan Tech has appointed Alex Mayer as the Charles and Patricia Nelson Presidential Professor. Mayer, who holds a joint appointment in the Departments of Civil and Environmental Engineering and Geological and Mining Engineering and Sciences, is recognized for his outstanding efforts to bring water-related research, education and outreach to the forefront at Michigan Tech.  
"Charlie and Pat were staunch supporters of Michigan Tech and spent a lifetime working with managers of natural resources," said President Glenn Mroz. "Alex's career accomplishments and appointment are a fitting tribute to their memory."
Mayer holds a Bachelor of Science in Civil and Environmental Engineering from Brown University and master's and PhD degrees in Environmental Engineering from the University of North Carolina at Chapel Hill. He joined the Michigan Tech faculty in 1992 and has been a full professor since 2001. Between 2005 and 2011, he also served as the director of the Center for Water and Society.
"Alex is one of the most active researchers on campus, an accomplished scholar, an outstanding teacher and caring adviser, and a highly valued University and department citizen. He is truly one of Michigan Tech's best," said Dave Hand, chair of the Department of Civil and Environmental Engineering.
John Gierke, chair of the Department of Geological and Mining Engineering and Sciences, added, "Throughout my career here as a colleague of Alex's, I have been so impressed by his record of scholarship and collaborative nature, especially his propensity to involve a diverse group of faculty in large research efforts. This appointment is both fitting and long overdue."
As principal investigator, Mayer has secured $8.5 million in federal funding and $1.3 million from other sources during his time at Tech. His teaching interests include groundwater flow and transport and subsurface remediation. His current research projects include "A Research Coordination Network on Pan-American Biofuels and Bioenergy Sustainability"; "Environmental CyberCitizens: Engaging Citizen Scientists in Global Environmental Change through Crowdsensing and Visualization"; and "Virtual Water Accounting: A New Paradigm for the Adaptive Management of Great Lakes Water."
In 2009, Mayer was recognized with the Rudolf Hering Medal from the American Society of Civil Engineers. In the same year, he also received Michigan Tech's Distinguished Faculty Service Award. The Huron Mountain Wildlife Foundation recognized him in 2010 with the Manierre Award.
Article in Tech Today by Max Seel, provost and vice president for academic affairs