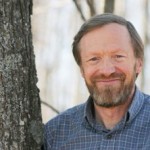 On Tuesday, December 16, Professor Rolf Peterson, MTU expert on Wildlife Ecology, will lead a discussion titled "Animal Elements of Keweenaw Peninsula and Isle Royale". The event is part of a monthly series of sessions on the Geoheritage and Natural History of the Keweenaw, at the Carnegie Museum in Houghton. The discussions are aimed at the general public, but discuss current research and science.  
Professor Peterson explains his discussion: "In the 19th and 20th centuries many wild animal species in the Keweenaw, along with the forest, were wiped out or reduced by unregulated harvest and widespread fire. Protective game regulations and regrowth of the forest allowed some species to recover, a process that continues today. Isle Royale was affected by the same influences, to various degrees. Peterson will review the status of prominent and obscure species of wild animals, including many that are presently experiencing rapid change. "
The Carnegie Museum of the Keweenaw, located at Huron & Montezuma in downtown Houghton. Seminars are held in the recently restored Community Room on the ground level of this historic building. Lectures are free, open to the public, and barrier free (wheelchair accessible). For each monthly lecture, the museum will open at 6:30 pm for refreshments; lectures and discussion occur from 7:00 to 8:00 pm. Web information is here. Please contact the Museum for further information, 906-482-7140.