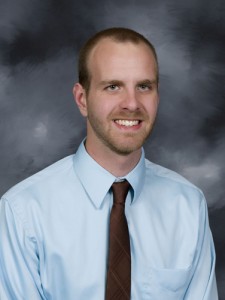 The Graduate School is pleased to announce that Andrew Willemsen is Michigan Tech's nominee for the 2011 Midwestern Association of Graduate Schools Distinguished Thesis Award.  Mr. Willemsen was nominated by his advisor, Dr. M. Rao of the Department of Mechanical Engineering – Engineering Mechanics.
His thesis, "Objective Metric for Assessing the Perceived Annoyance of Impulsive Sounds" developed a new method to objectively quantify the overall sound quality of electro-mechanical devices.  This method could improve the design process for these devices by replacing current subjective sound evaluation methods, which are typically expensive, time-consuming, and difficult to quantify.
Mr. Willemsen has presented two conference abstracts on this work (Noise-Con 2010 in Baltimore, MD and the 20th International Congress on Acoustics in Sydney, Australia) and a journal article is in preparation.  He is currently continuing his education as a doctoral student at Michigan Tech with Dr. Rao, and is funded by a NASA Graduate Student Researchers Program fellowship.
Two other graduate students were also nominated for consideration.  Joshua Richardson was nominated by his advisor, Dr. G. Waite of Geological and Mining Engineering and Sciences.  Max Henschell was nominated by his co-advisors, Dr. D. Flaspohler and Dr. C. Webster, both from the School of Forest Resources and Environmental Science.  All of the nominations were noteworthy, and the evaluation panel had a difficult task in selecting one nominee to represent Michigan Tech.
The Dean's Advisory Panel, representing each college or school at Michigan Tech evaluated the nominees.  The faculty on this panel represent a broad range of graduate programs:  J. Keith (Chemical Engineering), S. Martin (Social Sciences), R. Froese (School of Forestry Resources & Environmental Science), X. Wang (School of Technology) and G. Campbell (School of Business and Economics).  Next year's competition will consider applicants who have completed their degrees between October 1, 2010 and September 30, 2011.  An application consists of an abstract of the thesis, recommendation letter from the advisor, and an electronic copy of the thesis.  Please consider nominating your master's students next year.
Previous nominees can be found on our web page.