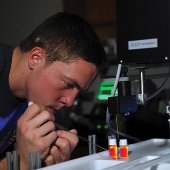 A Michigan Tech professor, two alumni and a research colleague have received the US Army's highest award for research at the Army Science Conference in Orlando, Fla., last week.
The four won the best paper in the nanotechnology division, one of 18 categories, and the prestigious Paul A. Siple Award for the overall outstanding technical paper presented at the conference.
The lead author on the paper is Tech alumnus Mark Griep, who earned a PhD in mechanical engineering in 2008. Griep now works at the Army Research Laboratory at the Aberdeen Proving Grounds in Maryland. The paper was based on research he did at Tech for his PhD and during summer research for the Army.
Griep's advisor, Professor Craig Friedrich, who holds the Robbins Chair in Sustainable Design and Manufacturing, is a coauthor of the paper. Friedrich is also associate chair and director of graduate studies in the Department of Mechanical Engineering-Engineering Mechanics.
Other coauthors include Shashi Karna, a senior scientist at the Army Research Laboratory and a member of the ME-EM External Advisory Board; and alumnus Eric Winder, who earned a PhD in biological sciences in 2010 and is now a postdoctoral fellow at the Department of Energy's Pacific Northwest Laboratory near Seattle. Winder was advised by Friedrich and retired professor John Adler.
The paper, which was singled out among more than 800 abstracts submitted, is titled "Nanoscale Bioelectronics for Real-Time Target Sensing." It describes the integration of biological materials with electronics to create a sensor that could be up to three times more optically sensitive than current technology.  Such systems are envisioned for sensors small enough to be carried by a small projectile fired by a soldier or dropped from an unmanned aerial vehicle to determine the possible presence of chemical or biological materials.  Because protein can activate individual transistors, a small electronic chip containing thousands of transistors could sense multiple toxins.   A real-time, electronics-based biosensor will have a wide array of military and civilian applications, potentially leading to extremely sensitive, small, low-power, stand-alone, sensing arrays.
One potential application: They may also be useful for bio-solar cells.
These award-winning papers were selected for originality of subject matter, relevance to the scientific discipline and the Army, potential impact on current and future soldiers, soundness of scientific methodology, and clarity of the presentation.  The Siple Award recognizes the accomplishments of Army scientists and engineers. It is named after Paul A. Siple, a scientist, intellectual and scientific attaché.  The ASC conference attracted more than 1,500 representatives of government, academia and industry from the US and 25 countries.
For more information about the conference, visit: http://armyscienceconference.com/.
Published in Tech Today.