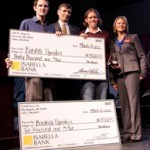 Some ideas just stick in your mind. At the Bob Mark Memorial Elevator Pitch Competition last November, Ben Mitchell presented his idea for fixing bicycle tires in Africa, so villagers could make a living. It was simple and meaningful, and we were floored. Six months later, so was everyone else.
He and Wade Aitken-Palmer took first-place in the New Venture Competition held recently at Central Michigan University. Their idea, called Baisikeli Ugunduzi (Swahili for "modern bicycle"), captured $30,000 for first prize and another $10,000 for Best Social Venture, for sustainability and social impact, among other reasons. Their invention is a tube that eliminates flat tires.
Mitchell, a PhD student in Mechanical Engineering-Engineering Mechanics, and Aitken-Palmer, a student in the Applied Natural Resource Economics Peace Corps Master's International program, have been working on the business idea since last year, and Mitchell said the inspiration began with his stint in the Peace Corps a couple of years before that. Thanks to the big win, he is planning a trip to Kenya in May to begin with more market testing.
"We are working with bicycle taxi drivers, who can go through many tubes in a month," Mitchell said. "The tubes will have to be produced in Taiwan, as there are no production facilities in Kenya." Assembling will take place in Africa, however, and that will create some jobs. "Our first hire will be a mechanic," he said. "And he could do some modifications as well."
When they began, Mitchell said he had some catching up to do on the business side of things, but they did have a more thought-out design and a more developed prototype than most, thanks to their engineering backgrounds. And he has high hopes for the future. "Some 50 million sub-Saharan Africans depend on bicycles," he said. "As our mission says, we work with mechanics and bicycle taxi unions to design, produce and distribute products that add value to working bicycles and improve the livelihoods of bicycle taxi drivers, messengers and those who earn a living on their bicycles."
Mitchell also pointed out Central Michigan's role in hosting the event. "They did a tremendous job coordinating the whole event, with all the judges and student teams," he said. "It was very well orchestrated." Central has also invited Baisikeli Ugunduzi back to talk about how it all develops in the future.