MyMichiganTech is a personalized website that will allow students to quickly and easily see their current student status. You will also be able to get direct access to Gmail, Canvas, banweb and more from MyMichiganTech – think of this as the first place to go every morning! The Graduate School is pleased to introduce it to you and looks forward to receiving your feedback on how we can improve it in the future.
Navigate to MyMichiganTech.mtu.edu and log in with your Username and ISO Password (just like Canvas, e-mail, or any other campus service)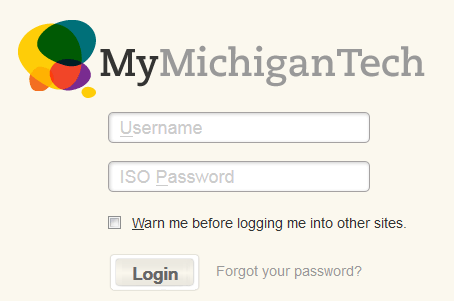 The homepage has news, events, and weather. Click on the "Current Students" tab (outlined in a red box below) to show information about your current status. Depending on the services you use at the University, such as financial aid, or campus housing, different options will appear.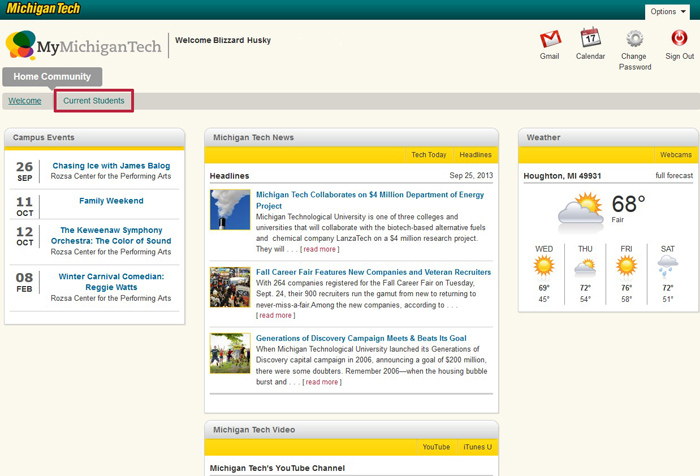 The Current Students page has three columns – the left column, center column, and right column.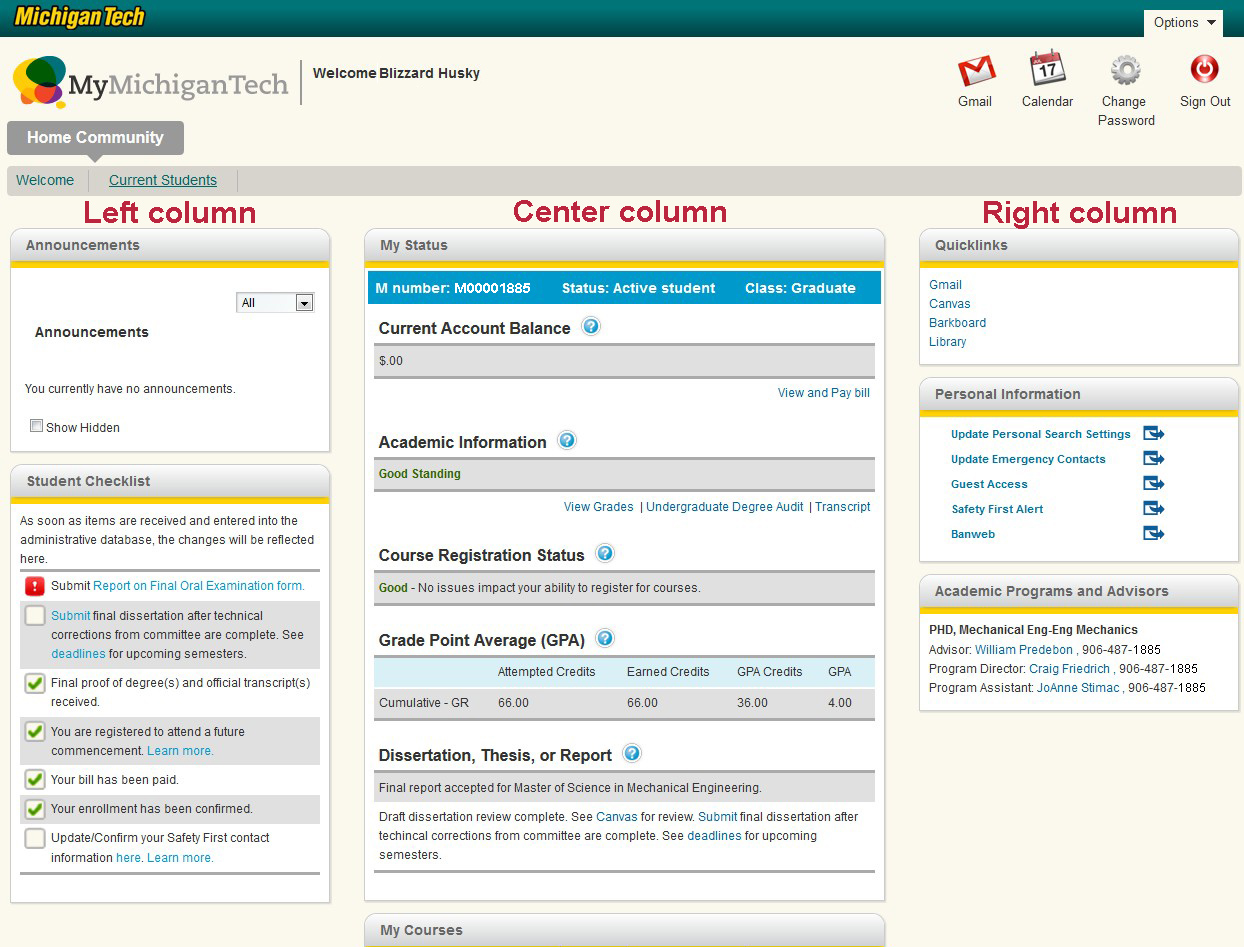 The left column has Announcements and your Student Checklist – the most important items to be monitoring regularly.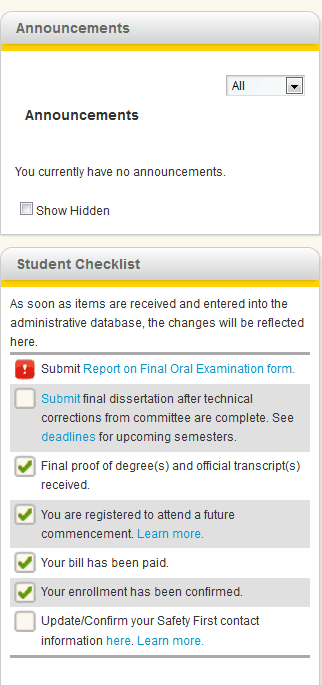 In your Student Checklist you will notice three different icons appearing next to each item:
A red exclamation mark indicates that this item is overdue.  Blizzard has taken his final oral examination, but has not yet turned in his Report on Final Oral Examination form!
An open box is something that needs your attention soon, but not immediately.  After your final oral examination, you will want to submit your final dissertation, for example.
A green check indicates something has been completed. These messages will disappear, generally 14 days after the item was submitted.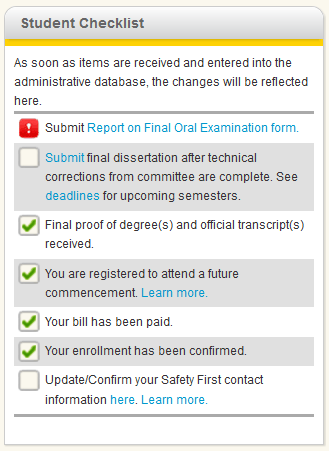 Some checklist items will have a "Learn more" link.  Clicking on this link will show you additional information.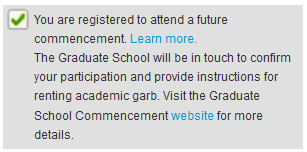 The center column has My Status (top) and My Courses (bottom)
My Status summarizes the most important status items, like your current account balance, when you can register for courses, and the status of your dissertation, thesis, or report (if applicable)
My Courses shows the courses for this semester – with links to the final exam schedule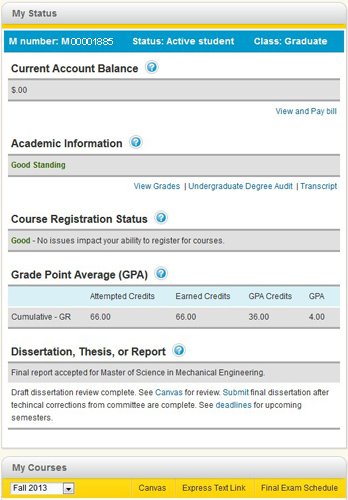 For students submitting a dissertation, thesis, or report, the status messages in the "My Status" area will point you to the resources you need, and summarize where you are in the submission process. Clicking on the question mark (outlined in red below) will give you additional help on that topic.

The right column has Quicklinks, Personal Information, and your Academic Programs and Advisors – we've tried to gather the most useful information and services in one place for your convenience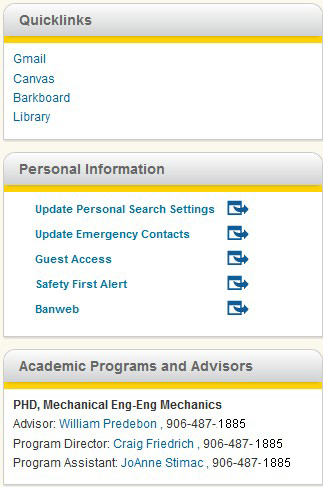 Your items need to arrive in the Graduate School and be processed before changes will be reflected on MyMichiganTech. Please allow a few business days for processing.
We have worked hard with our campus staff to design items we feel will be useful to you in completing your degree.  Please let us know if there are errors or items that are confusing to you, and we will work with the appropriate staff on campus to address these issues.
Coming in 2014 will be a detailed screen where you will be able to see every form that you have submitted to the Graduate School for your degree, and exactly which items are still needed to complete your degree.  These will also have time sensitive warnings, so you will always know if you are on track to degree completion.