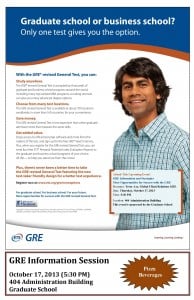 The Graduate School is pleased to announce information sessions for the GRE® revised General Test.  Teresa Axe, the Associate Director of Global Client Relations (GRE) will be on our campus for two days.  On October 17th she will be presenting to students who intend to take the GRE® revised General Test.  On October 18th she will be presenting to faculty and staff updates who want to learn more about using the GRE® revised General Test and how to use it as an assessment tool for graduate applicants.
GRE Presentation for Students
GRE Information and Strategies – More opportunities for Success with the GRE
Thursday, October 17, 2103 (5:30 PM)
404 Administration Building – Graduate School
Pizza and beverages will be served
All students are encourage to attend, no RSVP required
GRE Presentation for Faculty and Staff
An Update from the GRE Program
Friday, October 18, 2013 (7:30 AM)
Memorial Union Building – Ballroom B1
Breakfast will be served
Faculty and staff, please RSVP to Heather Suokas (hlsuokas@mtu.edu) by October 11th.
GRE – Offered on Michigan Tech's Campus
ETS (GRE) has agreed to offer a paper-based GRE® revised General Test on Michigan Tech's campus.  This is a one-time event.  We hope to expand offerings in the future.  The GRE® revised General Test is scheduled for February 8, 2014.
For additional information on this exam and GRE subject tests, please contact James Schultz (jschultz@mtu.edu).