Did you know that MyMichiganTech now allows you to update your expected Graduation Term with the Graduate School? It's quick and easy to do, and by doing so your MyMichiganTech checklist will more accurately reflect what you need to do this semester.
Login to MyMichiganTech and Access the Current Students Tab
The first step to completing this task is to login to MyMichiganTech and navigate to the Current Students page. If you're having trouble doing this, or you are new to MyMichiganTech, you may find our blog post on navigating MyMichiganTech helpful. This post can be found here.

Accessing The Degree Completion Timeline
Once you have accessed the Current Students tab, all of the important information about your student record including announcements, your current account balance, registration status, GPA, and also the status of your dissertation, thesis, or report. On this page, you will want to look for the section titled "Degree Completion Timeline," which is circled in red below.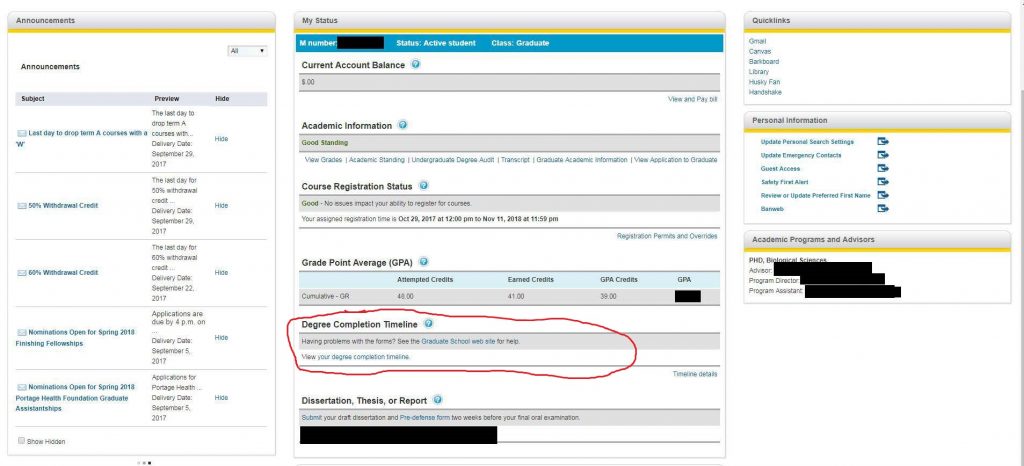 Once you have located this section, click on the blue link that says "View your degree completion timeline." This will take you to your personalized Degree Completion Timeline, a very useful tool for ensuring you complete all of the necessary items to complete your degree.

On your personalized Degree Completion Timeline, you will find a drop-down box near the top of the page. Use this drop-down box to select the term in which you expect to graduate. When you are finished, please click on the "Click to Save Changes" box. You will not be able to select a semester that is beyond the time limit to earn your degree.

After this is complete, you will see a message at the top of the screen indicating that your changes have been saved.  If you need to extend your graduation time beyond your time limit term, please see our web page for more information.
We hope that these instructions will reduce some headaches for you! As always, feel free to email us with any questions at gradschool@mtu.edu. Thanks for reading!