Neel Uday Desai
Atmospheric Sciences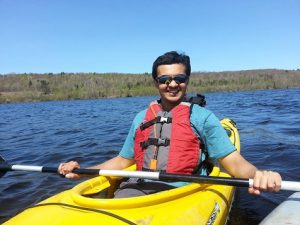 I came to Michigan Tech in Fall 2013 to start my Phd in Atmospheric Sciences after finishing my masters from University of Michigan in Aerospace Engineering and my bachelors from University of Mumbai in Mechanical Engineering.
When I came here, I wanted to learn more about the Earth's atmosphere and how precipitation forms in clouds. My research focuses on the effect of turbulence on cloud droplet growth. I was able to perform experiments and obtain measurements to study that effect here in the Michigan Tech Pi Chamber which I couldn't have done anywhere else. My research also allowed me to collaborate with other institutions such as the Leibniz Institute for Tropospheric Research in Leipzig, Germany where I spent two months.
I'm thankful to my adviser Dr. Raymond Shaw for guiding me and the Physics department for supporting me in my research for all these years. This finishing fellowship allows me time to write my dissertation, defend my thesis and graduate with a doctoral degree. I would also like to thank the University and the Graduate School for the opportunity to grow as a graduate student in a professional yet homely atmosphere.