Roba Bdeir
Biochemistry and Molecular Biology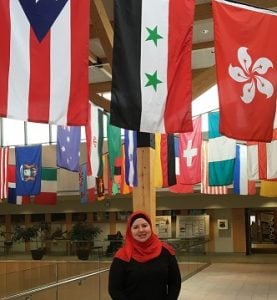 I was fortunate enough to work with Dr. Oliver Gailing in Forestry as he introduced me to Forest Genetics. I have been under his supervision since 2012 and it has been quite a journey. I did my Masters along side working on my PhD research focusing on discovery the genetic basis controlling the development of wood and bark tissues in forest trees, aspen, characteristics important for breeding and the fitness of aspen trees. I went on filed sites collecting samples from over 3000 trees and ran a genome wide search to find the underlying regions responsible for growing a healthier, better disease resistant and faster growing trees.
I am grateful to the Graduate School for granting me the Finishing Fellowship for Fall 2018. I would also like to thank my advisors Dr. Oliver Gailing and Dr. Victor Busov for their academic advice and their constant support and encouragement. I am proud to be a part of Michigan Tech and can say I have made amazing and fond memories these past six years.