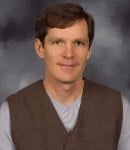 Charles Wallace, associate professor in computer science, has agreed to serve as interim department chair computer science during the academic year 2012-13. Steve Carr, who served the previous two years, accepted a position at Western Michigan University.
"I am grateful for Chuck's willingness to take on this new set of responsibilities, some of which fall under the heading of 'thankless tasks,'" said Bruce Seely, dean of the College of Sciences and Arts.
Read more at Tech Today.