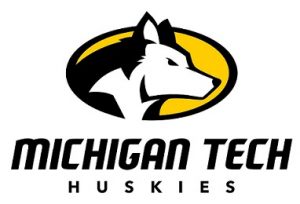 Michigan Tech
---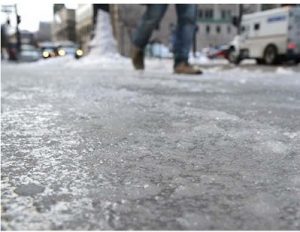 Watch for walkers in the morning and evening commutes. Also, if you are a walker wear reflective clothing.
Be careful out there. Be aware of icy walkways and roads.
Spring Break Hours for SDC
The Student Development Complex will have reduced hours over spring break Saturday, March 9 through Saturday, March 16. There will be no HuskiesFit Program classes over break. Regular building hours will resume Sunday, March 17. Visit 
Spring Break Building Hours
 to see the complete schedule.
---
Student Leadership Award Nominations Now Open
Student Leadership Awards is a time to celebrate and reward the individual and group efforts of students involved in organizations across campus. At Michigan Tech we are blessed enough with students that are crazy smart. Now it the time to be recognized for your commitment, enthusiasm, and leadership.
On behalf of the University, we are seeking nominations for the President's Award for Leadership, Dean of Students Award for Service, and various other student leadership awards. The recipient of each award will be honored at the 25th Annual Student Leadership Awards Ceremony on Friday, April 19.
The nomination process is simple. All awards and information about each can be found 
online
. For each individual award, simply click on the award title, then complete and submit the nomination form.
Nominations for the President's Award for Leadership and the Dean of Students Award for Service are due by
  5 p.m. Friday, March 8
.  Nominations for all other Student Leadership Awards are due by
12 p.m. noon, Friday, March 22.
Questions concerning the awards can be directed to 
Student Activities
.
Take a minute to nominate a fellow student or organization today!
---
Healthy Husky Workshop Series
Healthy Husky Workshop Series (Spring 2019)
Want to learn more?  Follow Student Health and Wellness on Social Media

Facebook (Michigan Tech Wellness) and Instagram!

Events and information posted weekly

We're Hiring!

Do you love to talk about Health and Wellness?  Are you passionate about balance and living a healthy lifestyle?  Visit www.mtu.edu/wellness and click on "Join Our Team" to submit an    application

Interviews will take place in the spring 2019 semester and work will begin in the Fall 2019 semester

Have a question about Student Health and Wellness?  Email us at wellness@mtu.edu
---
Michigan Tech Intramural
Sports T-Shirt Design Contest
Michigan Tech Intramural Sports is excited to announce the 2019 T-Shirt Design Contest! All students are invited to create an original t-shirt design. The winner of this contest will get a $50 gift card to University Images and their design will be featured on all of the 2019 – 2020 Championship T-Shirts! Please feel free to be creative and come up with something unique!
Submitting an Entry
Participants must be currently enrolled at Michigan Tech.
Winner will receive the current Intramural Champion T-Shirt, the first copy of their t-shirt design, and a $50 University Images gift card.
Entries are currently being accepted and must be turned in no later than 5:00 p.m. on March 8th, 2019.
Once submitted, all entries will become property of the Michigan Tech Intramural and will be used at their discretion.
Entries must be submitted via email (IMsports@mtu.edu), or delivered to Jason Hawke in the Intramural and Physical Education Office (Room 202 in the SDC).
Design Requirements
Design is on the front of the shirt only. Please keep designs within the chest region of the shirt.
Artwork must include one of the following: Michigan Tech, Intramural Champion, IM Champ, or anything else that denotes Intramural Champion.
Digital art is preferred. Vector art as created in programs such as Corel Draw or Photoshop are preferred. Hand drawn or other design formats will be accepted as design concepts as well.
Slogans and catch phrases are permissible; however, they cannot infringe on Copy Rights nor can they be derogatory. Michigan Tech IM Staff will have final say on acceptability.
Artwork must be sports related, but should not focus on only one specific sport.
Artwork should not include any dates or years (for example: 2019, 2018-2019, etc.)
If you have any questions about this contest please feel free to contact Jason Hawke, jfhawke@mtu.edu.
---
Unprofessional Makeup Competition
Unprofessional makeup competition for all women on campus.
You can win a Make up set for the winner. Free food & gifts for the participants as well.
Monday, March 11th 5-8 pm MUB-Alumni lounge- entire(107)
Please bring your own makeup with you.
For registration and information, Please contact: ralhajja@mtu.edu, rashiy@mtu.edu
Register now sites are limited.
---
Iranian Community New Year
Iranian community at Michigan Tech celebrates the new year (Norooz) to share Iranian new year tradition at Michigan Tech. Everyone is invited to join us to celebrate the beginning of spring together. This year our event includes Iranian banquet, traditional dance performances by our organization members, Iranian clssic live music and stand up comedy. Our event is Sunday, March 24, from 6-9 pm, followed by one hour fun after-party. Tickets are $12 for students and $15 for non students. Early bird tickets are also available for $10. Tickets selling in the MUB Commons, March 18th until 22nd. The celebration is in the MUB Ballroom Sunday, March 24 from 6:00 – 9:00 pm.
---
Open Rock Climbing
Try something new at the SDC! Join the Outdoor Adventure Program on Tuesdays and Thursdays at 6 pm for Open Rock Climbing in the multipurpose room! Open to all ages, no experience necessary and included in SDC membership or facility day pass. Get out of your comfort zone and climb with us today!
For more information, visit Open Rock Climbing.
---
Michigan Tech Trails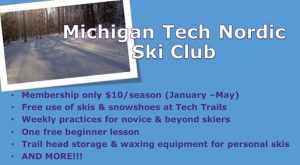 If you join the Nordic Ski Club you get free day use of equipment at Tech Trails. Equipment cannot be kept overnight and can only be used at Tech Trails.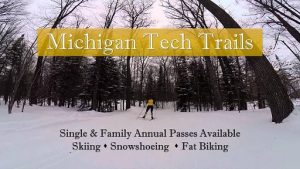 Come on out and support the Tech Trails with a season pass!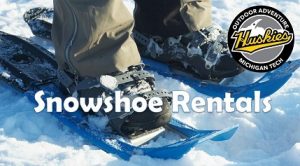 The Outdoor Adventure Program (OAP) offers snowshoe rentals . Various lengths available to accommodate all users and use types.
---
Play Some Pickleball
Gates Tennis Center now has two pickleball courts available for reservations and pickleball equipment available for rental. For more information, visit PickleBall at Gates. Call 487-2774 to reserve a court.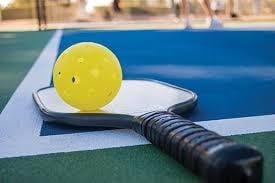 ---
Undergraduate Research Internship Program (URIP) Applications Due March 27
 The Pavlis Honors College would like to remind undergraduate students that URIP 2019-20 applications are due Wednesday, March 27, 2019.
The internship program is open to any undergraduate student on campus. Students are welcome to apply with faculty with whom they are already working.
The program consists of a 20-week internship (September – March) as well as professional development activities centered on academic research and scholarship.
The Pavlis Honors College will provide $800 in funding for the student intern, with the expectation that faculty will provide matching funds to be dispensed concurrently, resulting in a total of $1600 (or $10/hr for 8 hours per week for a period of 20 weeks). Faculty may make use of research funds, IRAD, startup packages, or consult their chairs, deans or center/institute management to identify the source of their match.
Details regarding the Undergraduate Research Internship Program (URIP) application process can be found at mtu.edu/honors/research/urip/application.html.
The Undergraduate Research Internship Program is made possible by generous donations from the Portage Health Foundation and the DeVlieg Foundation, with the support of the Pavlis Honors College.
---
2019 Undergraduate Research Symposium
The Pavlis Honors College will be hosting the 7th annual Undergraduate Research Symposium being held on Friday, March 29th from 1-5 pm in the lobby of the Rozsa Center for the Performing Arts. The Symposium highlights the cutting-edge research being conducted on Michigan Tech's campus by some of our best and brightest undergraduate students. Student presentations represent a wide array of scientific and engineering disciplines from across campus and highlight the diversity of research areas being explored.
Visit the 2019 Undergraduate Research Symposium website for more information regarding abstract submission. All undergraduate student researchers should consider participating in this event as a means to display their work and gain presentation experience.
---
Pavlis Honors Pathway Program Now Accepting Applications
The Pavlis Honors College is now accepting applications for Fall 2019. Students are eligible to apply to join if they have 2 or more years remaining on campus. Pavlis offers 6 distinct pathways on which students may build their honors program:
Each of these pathways provides a framework of support, exceptional resources and a community of scholars for students interested in challenging themselves, doing more and making a difference. If you are interested in graduating with honors from Michigan Tech, please apply. If you would like to learn more about Honors at Michigan Tech or speak with an advisor, email us at honors@mtu.edu.
Applications will be accepted through Monday, April 8th. However, students who apply early will be given preference. Space is limited.
Find out why success means more than GPA: mtu.edu/honors.
---
OAP Silent Gear Auction
The Outdoor Adventure Program (OAP) will host its 12th annual gear auction Saturday, April 20, from 10:00am to 2:00pm in the Gates Tennis Center. New this year, OAP is coordinating with Athletics to auction some of their surplus equipment as well as used OAP gear.
Need to clear out your garage or storage unit? OAP wants to help you with your spring cleaning. Either have OAP sell your gently used (but still usable) outdoor recreation equipment on your behalf or consider donating it to the OAP and we'll use any proceeds to help purchase new equipment for the OAP rental program.
Items can be dropped off April 17-19 at the OAP during regular business hours.
Anyone interested in purchasing at the gear auction will need to register at the at the Gates Tennis Center the day of the event.
For more information, visit OAP Silent Gear Auction, email OAP at oap@mtu.edu or call 906-487-2290.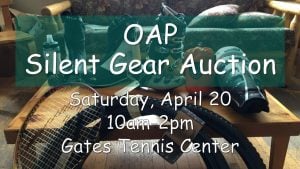 ---
Spring Gallery Exhibition Salon!
The Department of Visual and Performing Arts and the Rozsa Center are excited to announce the spring gallery exhibition, Salon!, curated by gallery director and Michigan Tech associate professor of art, Lisa Gordillo. It features works of art and writing by more than 30 artists and writers. Gordillo is excited to present an older arts tradition with a contemporary twist. She drew much of her inspiration for this show from Jewish Women's Salons, which focused on inclusivity, diversity, and contemporary dialogue. Works of art will also pepper the Rozsa lobby, creating sitting spaces and areas for conversation. Salon! runs Now – April 20 in Michigan Tech's A-Space Gallery, hours are M-F 8:00 am – 8:00 pm and 1:00 – 8:00 pm on Saturdays, and the exhibition is free and open to the public.
---
StudentWatch Course Material Survey
The Campus Store is once again participating in the nationwide survey regarding course materials, we would like to know your thoughts!
Your feedback will help the Campus Store strive to provide the broadest course material options and most cost-conscious pricing through strategic partnerships, transparency, and industry awareness.
Cash prizes are available, please check your email for the link to the survey!
Have a great semester and we hope to hear from you!
---
HuskyDeals Google Group!
The HuskyDeals Google Group is here to share information about our current promotions and services! We distribute relevant information using a very limited amount of communications through this group. You may join or leave at any time.
To join now, email "huskydeals-l+subscribe@mtu.edu" or search your Google groups for HuskyDeals and select the Join option. And if you're already a member, check your email for your birthday discount coupon! Thank you for your patronage!