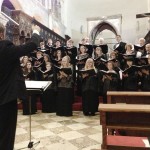 The former area of Yugoslavia conjures up images of war and civil unrest for many people, but for some members of the Michigan Tech Concert Choir, the Eastern European region is where many great memories were recently made.
"It was a lot of preparation, a lot of logistical and administrative kinds of things we had to prepare for, but the tour was very successful from beginning to end," said Jared Anderson, third-year director of the choir. "… There were remnants of communism in some ways, but you could also see some countries really flourishing."
The choir, previously under the leadership of Milton Olsson, has taken trips to Mexico City, Central Europe, Eastern Europe, Brazil and China, and Anderson said the group will likely travel again in three to four years.
Read more at the Mining Gazette, by Stephen Anderson.