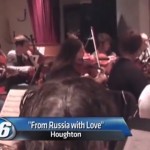 With the combined talent of over 60 musicians, the musical director says the goal of "From Russia with Love" is to tell a story.
"'Sleeping Beauty,' 'Antar Symphony,' the Shostakovich Symphony, the fascinating history of the mockery of the Stalin regime through a symphony. It's a compelling program and a compelling educational program and its musical merit is very compelling," Neves said.
The Keweenaw Symphony Orchestra performances:
Norway-Vulcan Performing Arts Center Thursday, October 25 at 7:30 p.m.
Tickets $10 and $5 for students
Marquette's Kaufman Auditorium Saturday, October 27 at 7 p.m.
Tickets $12 for adults and $5 for students
Escanaba's William Oliver Auditorium Sunday, October 28 at 2 p.m.
Tickets $10 adults $5 for students
Read more at Upper Michigans Source, by Gabrielle Mays.