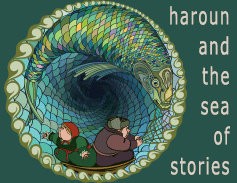 The Tech Theatre Company presents "Haroun and the Sea of Stories." The chldren's classic by Salman Rushdie is in the tradition of "Alice in Wonderland" and "The Wizard of Oz."
"What's the use of stories that aren't even true?" This is the question Haroun asks her father, the famous storyteller Rashid Khalifa, when her mother Soraya runs away with another man. Rashid then loses his unique talent, the ability to tell stories, and Haroun decides she must help her father recover his powers. She sets off on a remarkable journey to the fabled Sea of Stories, where many of Rashid's outlandish yarns turn out to be not only true but alive.
"Haroun and the Sea of Stories" opens at 7:30 p.m. Thursday, November 12, 2015, in the McArdle Theatre in the Walker Building. Additional performances are at 7:30 p.m. Friday and Saturday with a 2 p.m. Sunday matinee.
Tickets at $13 for adults, $5 for youth and Michigan Tech students are free with Student ID/Experience Tech Fee.