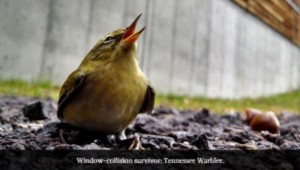 Migrating Birds Get Boost from Science, Art Collision
A student reports a dead body on the Aftermath Café patio near the windows. The victim is a Ruby-throated Hummingbird and the indirect cause of death is the potted, red geranium just inside the window.
This brightly decorative plant was placed to enhance the atmosphere for students sipping lattes during much needed breaks between their studies. Unfortunately, this well-intentioned decoration presented unintended consequences. The hummingbird was attracted to the geranium's bright blooms in hopes of a nectar meal but it encountered a window en route to the flowers.
This bleeding lead has a solution. In this specific case, it's simple: Move the flowers away from the windows. But bird-window collisions go beyond a single geranium. And finding the bigger solutions takes action at the window-scale, yard-scale, town-scale and beyond to make the world a safer place for migratory birds.
This case illustrates a common problem, that of windows causing as many as one billion bird deaths annually in the United States. Glass can reflect trees and plants that make windows appear as forests or habitat to flying birds, but there are many solutions for problem windows.
Not all solutions are as attractive as people would like. There is a need for more aesthetically pleasing designs that can be applied to windows. At Michigan Tech University, science and art students are working together to identify problem windows and then design attractive yet practical window applications as prototypes. This conservation-art collaboration is challenging students to reduce bird-window collisions and also communicate across the science-art divide.
Read more at the Huffington Post, by Amber Roth.
Superior Ideas: Stop Bird-window Collisions!
Reducing bird-window collisions through science, art, & design
Researcher(s): Amber Roth, Lisa Johnson, Andrew Meyer
$8,000 Fund Goal
Why This Project Is Important
Bird migration is one of the great wonders of the world. Sadly hundreds of millions of birds are killed by collisions with buildings, primarily windows, in the United States every year. Help fund this project to identify problematic buildings on the Michigan Tech University campus and to help develop design artistic and aesthetic design solutions that will reduce bird-window collisions.
Keep Em Flying
Visual and Performing Arts 2-D and 3-D design students are exhibiting their collaborations with researchers in the School of Forest Resources and Environmental Science to address bird-window collisions on the Michigan Tech campus.
Students in Lisa Johnson's (VPA) design classes are developing works of art and design that raise awareness, minimize bird-window collisions, and provide safe spaces for birds. Over time, Amber Roth (SFRES) and Johnson hope to develop new and innovative solutions that can be tested and prototyped on campus.
"Keep Em Flying" includes posters, paintings, sculptures and window treatments are on exhibit through Sunday in The Noblet Forestry Building, The Library Skywalk and The Rosza Center for the Performing Arts.