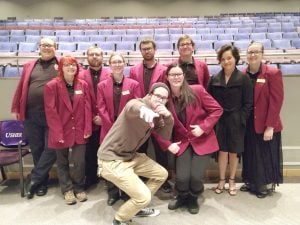 The Rozsa Center for the Performing Arts is looking for volunteer ushers to help with events in the new year. The Ken Steiner Memorial Fundraiser is 6:30 p.m. Friday, Jan. 10, on the Rozsa stage. The Rozsa Center, together with the Department of Visual and Performing Arts, Michigan Tech's Dining Services, and other community partners are hosting an evening of great music and good food in Ken Steiner's honor to benefit his favorite charity: Little Brothers Friends of the Elderly. The evening will feature good food, a cash bar, and a host of Ken's friends and former bandmates making the music, including Keweenaw Brewgrass and Uncle Pete's BBQ Blues Band.
The U.P. North-South Music Festival: "Music from Both Ends of 41," takes place at 7:30 p.m. Friday, Jan. 17 in the McArdle Theatre; 7:30 p.m. Saturday, Jan. 18 on the Rozsa backstage; and 3 p.m Sunday,  Jan. 19,  in the McArdle Theatre.
"Music from Both Ends of 41" is part of the Surround Sound Music Series. In addition to local, regional and national new music composers and performers, the Pulse New Music Ensemble from Miami, Florida will be heading North to present a concert of music by living composers in a festival of new music featuring concerts, workshops and masterclasses.
Volunteer ushers play an important role at the Rozsa, welcoming and assisting student and community visitors with every aspect of their experience at the largest performing arts venue in the region.
Volunteers are needed to greet and guide guests as they enter the building, take tickets and assist with seating in the theatre, answer questions about Rozsa facilities and programs, and help create a friendly and welcoming atmosphere for all Rozsa visitors.
No previous experience is necessary. Interested individuals can contact Samantha Hoover for more information, or go here to sign up to usher for an event at the Rozsa. We look forward to seeing you at the Rozsa in 2020.