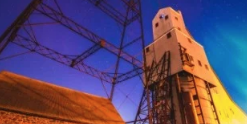 The Department of Visual and Performing Arts and the Quincy Mine Hoist Association present their spooky Halloween collaboration "A Haunted Mine: The Lost Labs of Dr. Z"
Tours will run from 6 to 10 p.m. today and tomorrow (Oct. 24/25) and from 4:30 to 11 p.m. Saturday (Oct. 26) in the Quincy Mine on U.S. 41 north of Hancock. Ages 13 and up are $12 per person, 12 and under are $6.
Tours after 6 p.m. are not recommended for small children. All children under the age of 10 must be accompanied by an adult. Footwear for muddy, snow and bloody conditions is advised.
Students are the performers in the mine and have designed sound, lighting, props, scenery and costumes for this one-of-a-kind Halloween scare. All proceeds will benefit the Quincy Mine Hoist Association.
For more on how we haunt a mine read our article in Michigan Tech News.