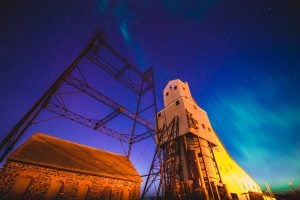 The Quincy Mine Hoist Association and the Michigan Tech Visual and Performing Arts Department are teaming up to offer the best Haunted Mine event ever. In preparation, the production team is looking for creative ideas for awesome and scary scenes. All are invited to toss ideas to the production team via an "idea pitch."
Ideas will be selected based on feasibility and potential for the ultimate scare. Scenes will be under the direction of a professional theatre director and actors will be auditioned to fill the necessary roles.
This year's theme is "Secret Portal to the 90th Level." Tourists have been disappearing, only to reappear having passed through the eerie depths of the mine unseen for years. Tours will be Oct. 25-27. There will be some rehearsing this year that will require a few hours of commitment before the actual mine experience. Technical load-in will be Oct. 21-24.
There will be a mandatory meeting for all volunteers from 6:30 to 8 p.m. Thursday (Sept. 20) in McArdle Theatre, Walker 207.

For more information, contact Patricia Helsel, 7-3283.

Fill out an information form prior to attending the meeting.
The team is looking for a very brief description of a mini-plot or scenario that might take between one and five minutes. These scenarios are partly improvised situations where one or more individuals interact with each other and/or the customers who enter the mine during the tour. Envision costumes, lights, props, sounds, special effects, etc. Individuals, partners and groups are all invited to submit ideas. There is no limit to the number of ideas.
If your idea is chosen, you and two friends will be invited to a special sneak preview of the whole mine tour before the event opens to the public.
If you are interested only in being a part of the Haunted Mine experience, just answer the survey questions in the form.