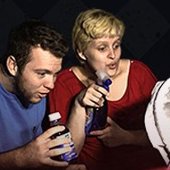 "Baby with the Bathwater," a Michigan Tech Theatre Company production, received its Kennedy Center American College Theatre Festival response last week. The respondent is awarding the following:
Certificate of Merit in Lighting Design—Jason Scott
Certificate of Merit in Sound Design—Steve Green
Certificate of Merit in Music Composition—Ben Holtz
Irene Ryan Acting Scholarship Nominations—Dollcie Webb and Scott Murphy
Additionally, the respondent nominated scene I-2 with Helen, John and Nanny to be considered for the Region III festival. ("Rose and the Rime," which was presented by the Department of Visual and Performing Arts last February, is also under consideration.) Results will be announced after the first weekend in December.
The respondent also noted the strength of the production in technical direction (Josh Maiville) and in the system sound design (Jason Pew). The stage managers were recognized in the response.
"Baby with the Bathwater" is directed by Associate Professor Patricia Helsel, with set and costume design by  Professor M. C. Friedrich (VPA).
The show plays today and tomorrow and contains adult language and situations.